I ate this as a last minute side item to a burger I was making for an early lunch.
Decided to thinly slice some Daisy Brand ring bologna I smoked yesterday on the WSM. Tossed the slices of bologna and some chopped onion on the flatop in some of the burger grease from the burgers I was doing. Quickly sauteed the onions and bologna and topped with a slice and a half of american cheese. Tossed it on a burger bun, and scarfed it down. Smokey, beef taste, cheesy, and nice. Glad I sliced the rest for one of these tomorrow..
sliced bologna & diced onions on the skillet:
almost done: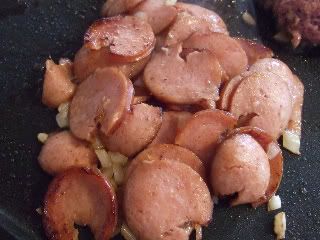 cheese pic:
sandwich:
thanks for looking.