Howdy all (Forgot to drop in here before posting in other threads, please forgive this old redneck)
I cook and grill almost everything. We cook whole hogs at least twice a year. Cooked my first brisket over New Years. Boston Butts, Ribs, and steaks are standard fare for us. Use everything from Charcoal to gas to oak in a burn barrel. Currently cooking on a Chargriller duo pro with attached firebox, a homemade box pig cooker, and a brinkmann square vertical smoker. Got a lot to learn still. Here are some pictures from our last big cook at New years
Here is the brisket, seasoned with Rudy's Rub (From Rudy's BBQ in TX), slather was EVOO
On to our pit and ready to be cooked to 170 degrees. Smoke for 5 hours
Off the grill and ready to slice
First slice
This was my first ever brisket and was a great hit! everyone said it was the best they had ever had.
Now on to the Pig
We started the coals around 830 pm and put the pig on the grill about 11pm
Here is me (on the right) and my best friend getting ready to drop it on the pit
63 lbs On the pit and ready to smoke
10 hours later, we flipped it and started getting ready to add the vinegar based sauce
Starting to bust it up so the sauce can get into the meat
Every bone came out clean
saucing it up
mostly busted up and simmering in the sauce
we do 100% pulled never chopped
turned out awesome
Here is a better view of our pit. My buddy built this thing 18 years ago out of scrap iron and tin he had in his yard to cook one pig on for a family reunion. We have lost count how many hogs we have cooked on it. The pig is 18 inches off the ground and we keep the coals towards the ends while it cooks.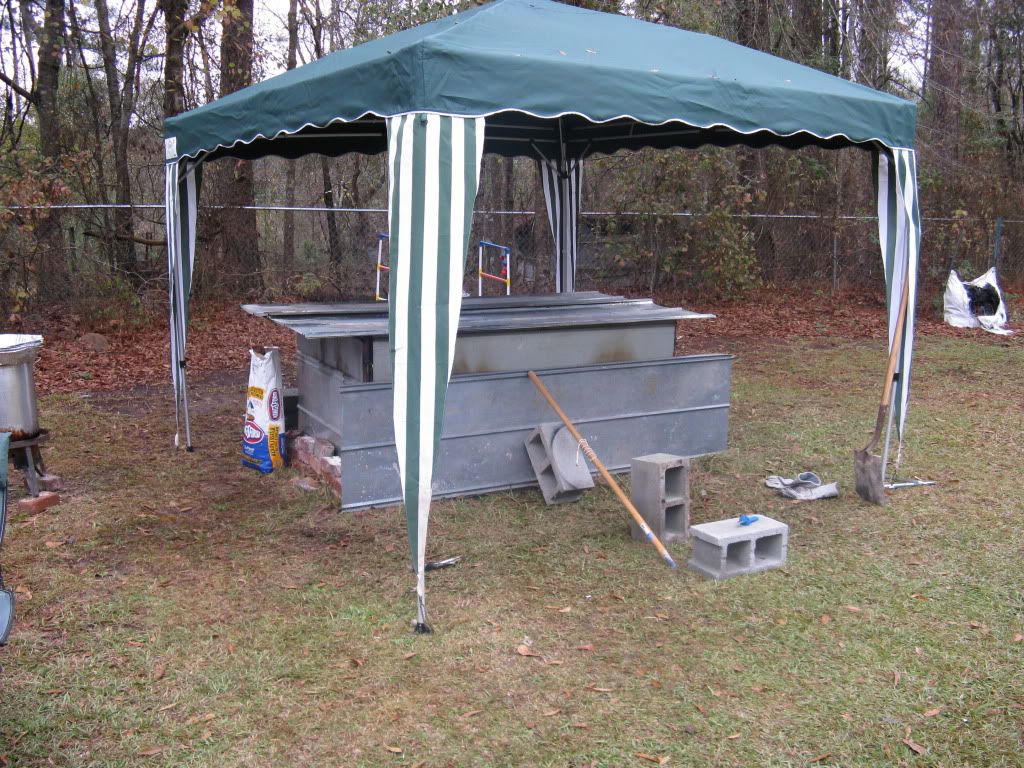 Hope ya'll enjoy the pictures as much as we enjoyed cooking and eating it!