Well, I officially did my first meat smoking today. This is going to be the birthday to remember so far. Partly because I turned 27 on the 27th today, but mostly because I put some meat in my smoker for the first time today.
Anyway, I decided to go with jerky first, since it is one of my favorite things to eat. I only made jerky one other time in dehydrator so this was kind of a new experience for me.
Here is how the day went.
I woke up early to get started on the jerky. I removed the jerky from the brine that it had been curing in over the past couple days. I gave it a rinse and then one final light seasoning. Then I hung the jerky from bamboo skewers.
I knew I would eventually thank my wife for having me paint our bedroom three times this past year.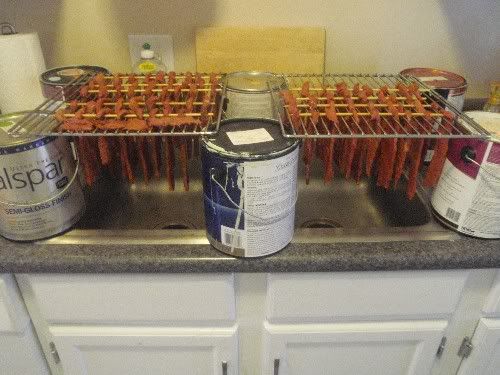 I then put the jerky in the smoker. I dried the jerky at around 140 degrees the entire time...about 6 hours. I had smoke going for the first hour and then I finished up the last hour with another round of smoke. I would think that the later smoke probably wouldn't be as effective for getting into the meat, but I thought, why not.
Here is a picture shortly before removing the jerky from the smoker.
And the final product
I tried to model the taste after one of my favorite dishes...JAMBALAYA
So I am calling this JJ for Jambalaya Jerky. Here is what I used
Brine
Worchestershire Sauce
TQ
Garlic Powder
Onion Powder
Hickory Salt
Jambalaya seasoning
After a quick rinse, I re-seasoned with a little more Jambalaya seasoning and also because I love it so much...some dill.
I though it turned out great for my first time. Other people liked it too I think, but I only surround myself with nice people anyway, so they probably wouldn't tell me if they didn't like it. One plate is completely gone and the other is on it's last few pieces, so maybe someone did really like. Or maybe I just ate that many pieces.
Sorry this post is so long, but I wanted to share with those who enjoy reading, my great day. There are definitely some things that I would do different next time and also I am thinking about making some dill jerky. Anybody ever try to season their jerky with dill before?