Don't know if you'll be able to see these ok, but follow the link:
http://www.facebook.com/home.php#/al...5292559&ref=nf
Pictures posted by my son on Facebook.
He and his son (George III - 10 mo. old) came over to the house Sunday after he called me Thurs. night that he'd heard on the radio that Albertson's had twin-pack pork butts on sale for a buck a pound; that night I went and picked up two twin-packs, 24 lbs. total, then Sunday morning went back and got another single, total of 5 butts. All were very lean (we're both on diets). I showed him how to bone out the butts and taught him how to make breakfast sausage, made 2 butts into that (which we hand-pattied up and froze), then the other two we boned out and made into polish sausage, teaching him how to season, cure and stuff that, some without and some with high-temp cheese - 12 lbs. of breakfast and 12 lbs. of polish sausages. The fifth butt I boned out, cut into three pieces (the front clod where the bone was was one, then split the body of the butt in half lengthwise into two more, so thicknesses approximate belly bacon), put into brine to cure for buckboard bacon (ready in a couple weeks, pics to follow).
Took us about 3½ hours to complete, all the time George III (nicknamed Trey, and further nicknamed Bubba as he's a voracious eater, much like his dad and grandad! lol! He and his 2½ yr. old sister are the same weight!) wore Grandma Linda totally out trying to keep up with him! She also cut his hair and saved some locks for memory-keeping too! (she was a beautician 35 years). He's crawling like a madman and pulling himself up.. he'll have his legs under him in a couple weeks for sure, then watch him go! They go from crawl to run... no walking stuff! Once they get their pins under them they're off to the races!
Stuffing the polish: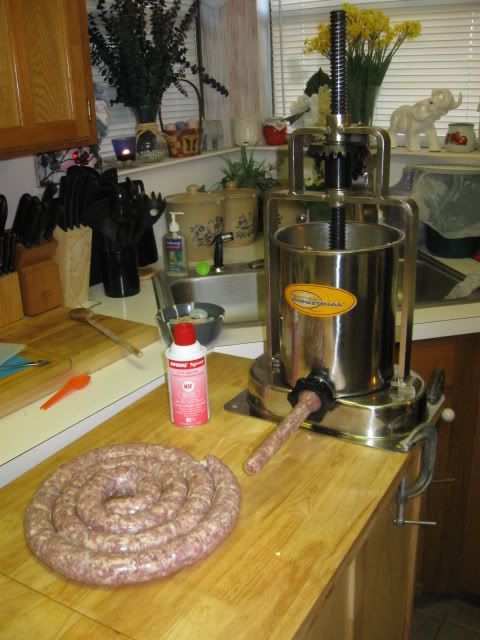 Finished Product: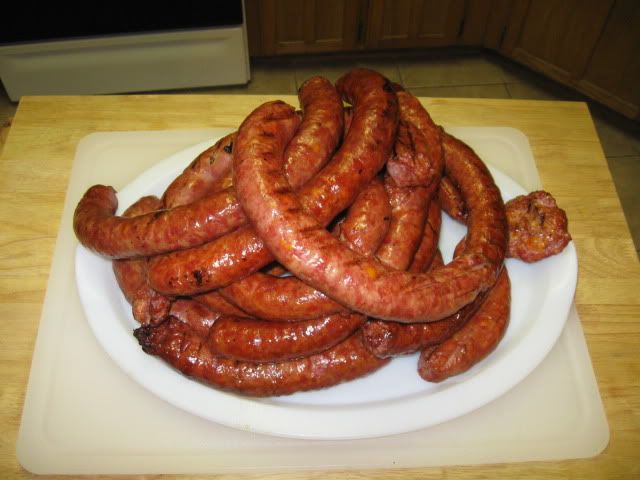 Thanks for looking!