Yesterday I decided to surprise my Brother with some smoked goodness while he was at work.
He is a manager in a Restaurant around here and when you work in a restaurant you tend to get pretty tired of eating the same old thing day after day.
Figured I would make him some ABTs that were stuffed with cream cheese, a blend of cheddar, jack and asadero, some chipotle rub and a few dashes of hot sauce
I also made some of my favorite appetizers, they are modeled after armadillo eggs (cream cheese stuffed jalapeno wrapped in sausage) but these are made using pepper shooters (marinated hot cherry peppers stuffed with aged provolone wrapped in proscuitto) wrapped in JD bold sausage
Smoked over oak and pecan, took about 3 hours. Was extremely windy that day.
Almost finished
Out of the smoker
I had to taste test a few just to be sure they weren't poisoned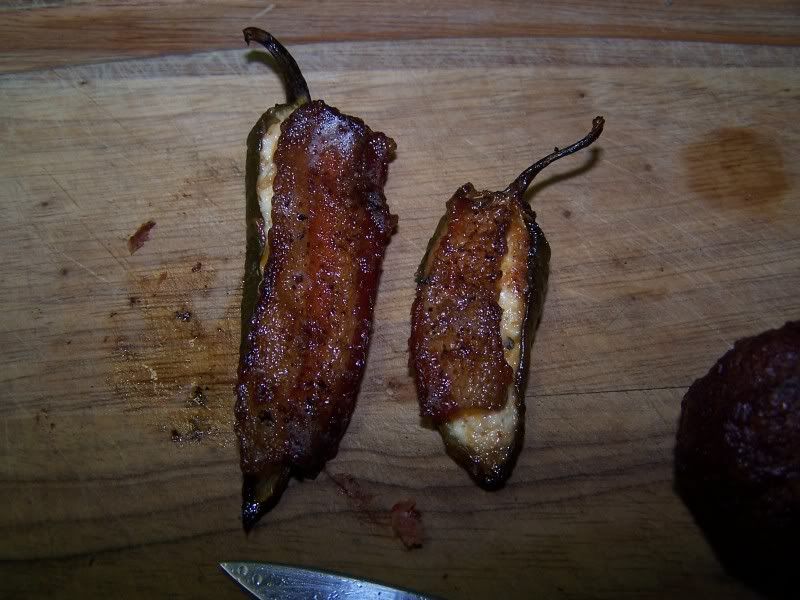 Also took him in a chunk of pastrami I made a few days ago so some of the management could enjoy pastrami sammies.
The smoky goodness didn't last long, he told me that people were going on and on about how good everything was and how much they loved it.
Not much BBQ around here and the little bit that is available leaves a lot to be desired so I'm glad he got a good meal and that everyone he worked with loved the food.
Get the word out there, the buzz about my smoke going before I open a small Q catering business (hopefully
)
Thanks for looking, if you have access to pepper shooters give 'em a try, just be sure to drain the excess oil in them of the sausage won't seal properly.