No....not the hemp rope the old cowpokes smoked around the campfire late at night......cold smoked breakfast sausage.
It started with Monday's newspaper. A local store was selling butts sliced into pork steaks for 89 cents per pound. So I opt for two of the bigger ones I find in the case:
As an aside, the little bottle of sage I needed to fill out the spices was over $5
Butt as for the butts, I find they trim out about 90% or so. I really don't understand why, but for some reason, it takes me almost an hour to bone, trim and cut up a couple butts to do this. If I had to do this for a living, I'd have to pick up some speed or find another job.
Anyway, once the final amount is weighed, spices mixed in and chilled, it goes through the grinder. In this case, an Enterprise #12.
There were 12 pounds and it took 12 minutes to grind, including the time spent snapping photos. I only grind it once. As this was being smoked.....even for a cold smoke..... after the grind, I mixed in two cups of ice water with 2 tsp of Insta Cure with the nitrite in it. Then on to the stuffer.
I'm still using the old Enterprise 8 qt my folks gave me. It cleaned up well, but as I understand it, the "black" stuff they used on these was japanning, which is some voodoo stuff I would not want to eat off of, so to eliminate food contact (and cleanup) I line the stuffer with a plastic freezer bag.
I have used a two gallon size in the past, this time I found 2.5 gallon Hefty zipper locks. Even more better. I was able to fit nearly 8 pounds in one bag: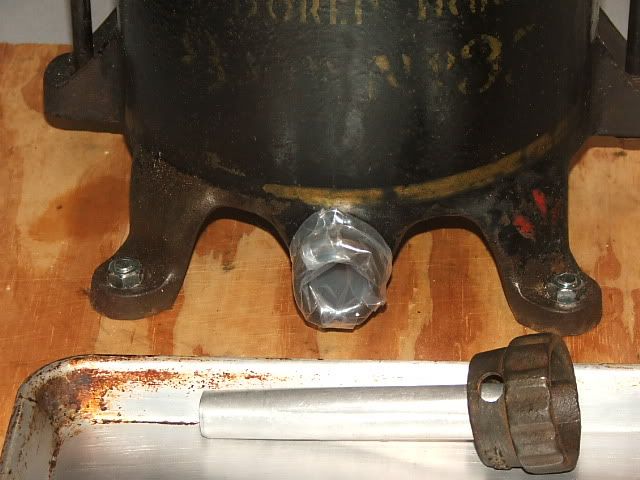 Through the stuffer:
Interesting deal on the casings. Store that sells the butts also makes brats, etc. and will sell these casings in bulk. They were $8 a pound, but I got enough to do this batch for $1.50. A partial hank, all in one piece.....must have been over 15 feet, cleaned, wet and ready to slide on the stuffing tube. And good quality casings too. My new favorite way of buying casings!
This was then cold smoked in the UDS for about 3 hours. Cold smoking like this doesn't cook anything. It's only for the smoke flavor. It was chilly out this morning, starting at around 50, and in the UDS, there is enough volume for the heat to disperse and not matter much. But the drum fills with smoke and you get a good flavor. For this, I prefer apple chips.
Final product, which is still a fresh breakfast sausage: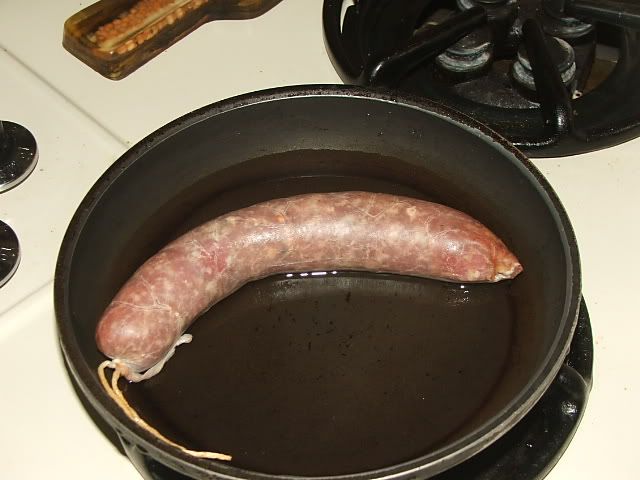 To cook, you put the sausage in a small skillet with a little less than 1/4 inch of water in the pan. Heat is med/low and let it cook until the water is all gone. What fat is in the sausage then remains for the sausage to brown in (if it's really lean, you need to add a few drops of cooking oil).
And 15 packages of frozen rope for the future: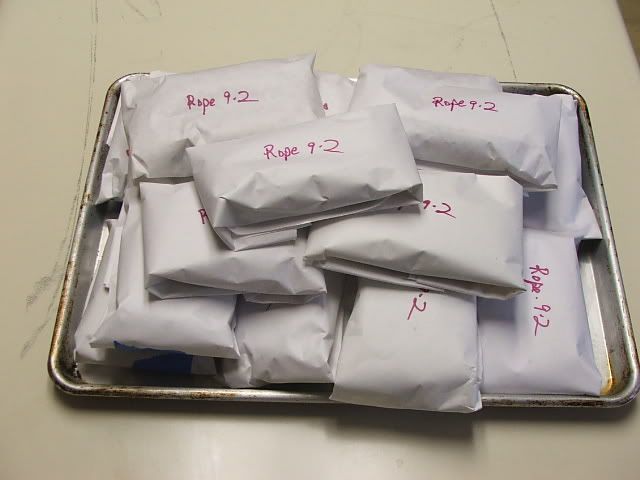 Thanks for looking!