Got the inspiration for this one from Gary Wiviott's book Low and Slow, I adapted the recipe, added some things, and subtracted a few.
Took the leftover spares out of the fridge, and after eating a couple, I took the rest of the meat off the bones, and set aside. I chopped an onion, 6 green onions, 6 cloves of garlic, and shredded 3 carrots as well.
I had on hand some oyster sauce, 1/4 cup of water, some soy sauce, 4 cups of cooked, cold rice, 1 tsp yellow curry powder, black pepper
I took 3 eggs, and scrambled them with about a tbsp of cold water. I then put them in the wok, with a tbsp of oil. cooked the eggs and removed. Wiped out the wok, and added a tbsp of oil, the garlic, and the onions(not the green ones). sauteed for about a minute then added the oyster sauce, water, and soy sauce. I reduced this down,and then a tbsp of oil, the pork, and the carrots, sauteed, and then added the rice, green onion, and scrambled egg, also added some black pepper, soy sauce, and yellow curry, and cooked until done.
Topped with leftover orange tobiko, & seasame oil. the smoked spare rib meat made the dish, lots of flavor.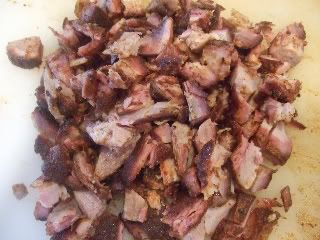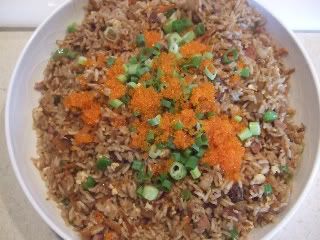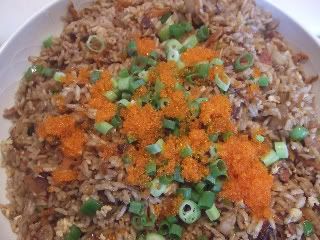 thanks for looking at my pics.