Found a good deal on packages of mid-joint wing sections (the flat section, not the drumettes) and couldn't resist throwing a batch in the smoker this weekend. I have another package in the freezer - probably do them next weekend for some company.
Anyway, I also threw in some eggs, inspired by Fire it up's pterodactyl deviled egg post this weekend, and some vidalia onions (I'll put the onions in the veggie area).
I didn't brine 'em, didn't really think about it, but might do so next time. Rubbed them down with some spicy chicken rub from Cookshack...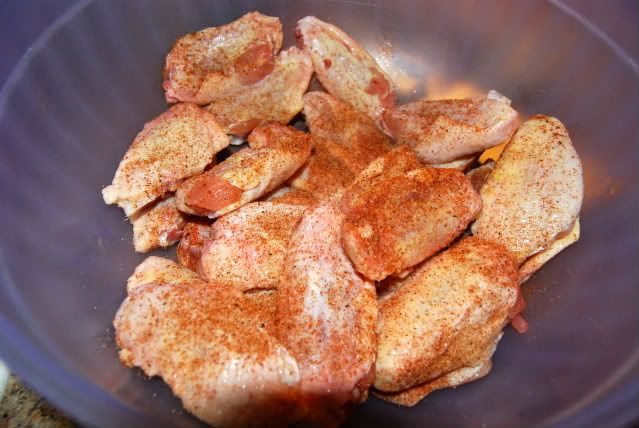 I smoked them at 225* for 2.5 hours with hickory. Next time I'll either turn up the heat or sear them on the grill to crisp the skin. Skin wasn't bad or rubbery, just not crisp either. Here's the goods out of the smoker...
The eggs were a hit, but I have to admit that they didn't have any smoke flavor whatsoever. Still an easier way to cook an egg than standing over a pot of boiling water. I was going to make deviled eggs, but the natives were restless...so we put a little butter and salt in a bowl and served them up like that...
The wings tasted excellent, but like I said the skin could have been better. I had about 25 wings and did a few with Frank's Red Hot Buffalo Wing Sauce and a few with Corky's BBQ sauce, which a relative in Memphis sent our way. I also saved a few with no sauce for my brother and some for me to pick on during the week. Both were delicious, but the Corky's was the crowd favorite with the smoke flavor on the chicken...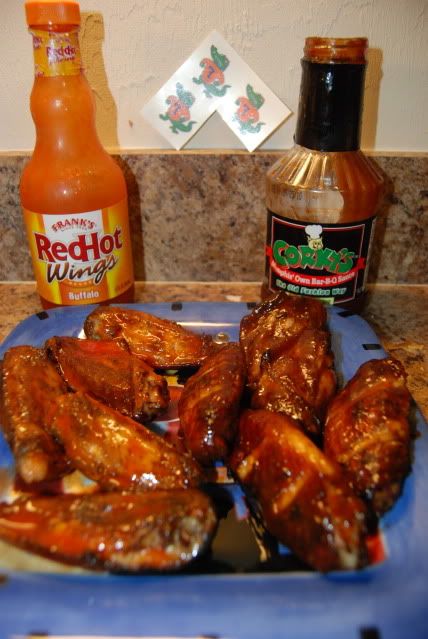 Thanks for looking.