This is a nice little side dish good for bringing to a summer picnic pot luck.
1 bag frozen corn
1 cup diced red onion
2 ea diced green onion
1 diced red pepper
3 ea diced fresh jap pepper(seeds and veins removed
1 cup mayo
1 cup ranch dressing
1/2 cup sour cream
2 cups grated Colby jack cheese
1 cup grated parm cheese
2 ea chipotle peppers in adobo sauce
1 lg bag chili cheese Frito's
Brown corn in 2 T of bacon fat(deglaze with a little chicken stock or water) then cool.
Add red onion, green onion, red pepper and japs, mix well.
Combine mayo, ranch dressing, sour cream and chipotles w/sauce in a blender and blend until smooth. Add to corn mixture.
Add cheeses and mix everything well.
Just before serving crush Fritos in the bag and mix the entire bag into the salad.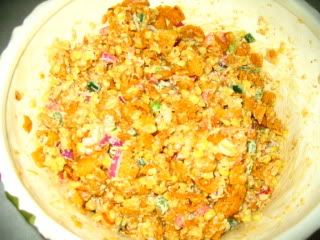 Has a great creamy southwest flavor!
Fried up some chicken gizzards for the hell of it also. Made for a great lunch!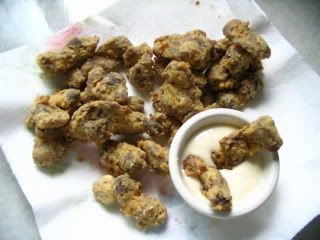 Thanx for looking!
Lou