It all started yesterday when I stopped by the butcher's. I was going beef short ribs cause I loved the ones I had the night before. I was a little surprized when he offered me 2 racks of these for $2.50/lb
I guess some guy came in and insisted on boneless prime rib lol. SCORE for me.
It was a race home to get these babies into a marinade I had tried with short ribs the night before. Some of you my have seen this recipe before but I will put it in anyway.
1 cup Soy sauce (I use china lily)
3/4 cup packed dark brown sugar
1/2 cup Worcestershire sauce
2 tbsp Garlic powder
2 tbsp Onion powder
2 tbsp fresh ground pepper
3 tsp Hot sauce ( I use a Jamacian blend)
Save remaining marinade and reduce by half for a great baste
Here they are after 4 hr in marinade (would have liked over night but oh well)
Almost look cooked already lol.
Due to unforseen circumstance (like my smoker being destroyed in shipping) I am forced to attemt this smoke on my Uniflame grill.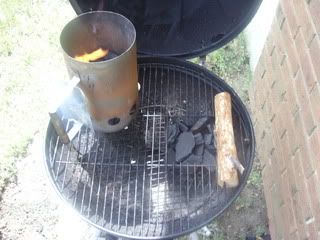 As I have become addicted to birch that is what this little log is.
I managed to get an almost constant temp of 250 so on with the beef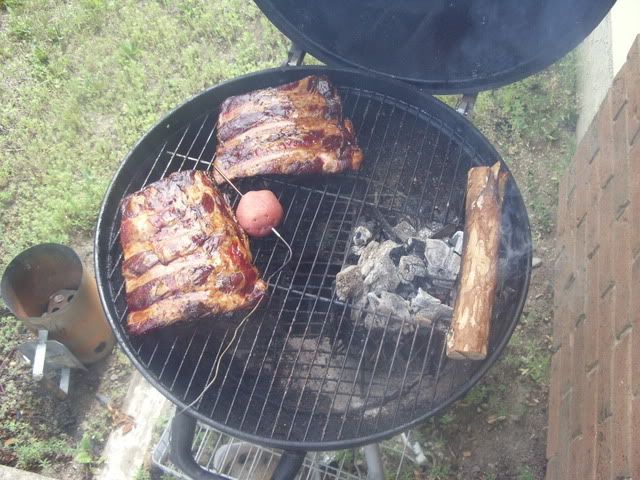 I was about half way through the smoke when I saw a post here on pterydactle eggs I had to try them. These eggs came straight from the fridge onto the grill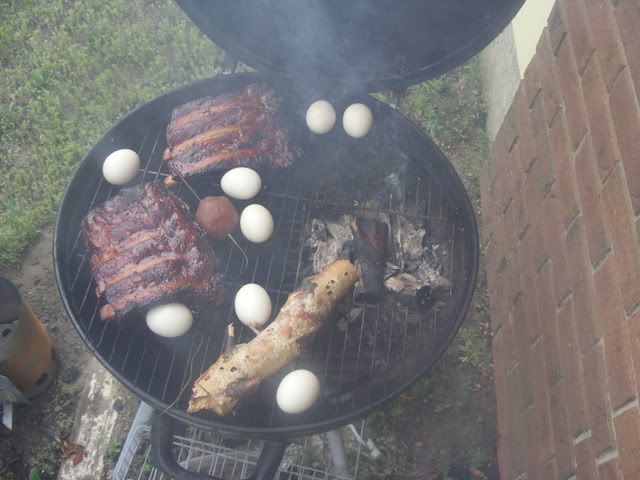 Now I normally take the bark off my birch but wanted to try bark on to see if there was a difference. I found a slightly different tatse but not noteable.
I found the eggs to be done when they blew their shells off LOL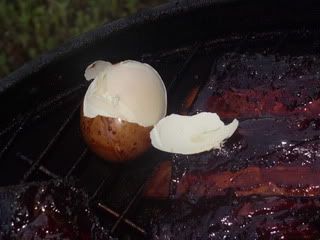 I tell you what my neighbor was wondering what all the popping was in my Q.
Eggs done and cooling.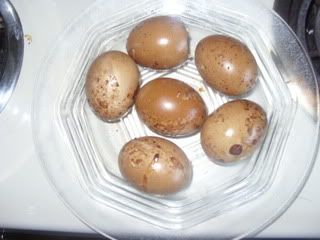 Then peel cut in half and devilled
This is all that made it to the devilling process (fat prego daughter couldn't keep away) Out of 8 eggs I got 7 halves. She loved right off the Q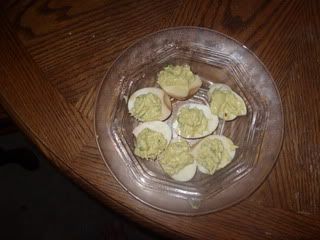 Ok back to the ribs I think they are done. I didn't go by temps I went with Irishteabears suggestion of watching the pull back and the bend of the rack. Here I am at 4.5 hrs in (was basting every so often with leftover marinade that I reduced.)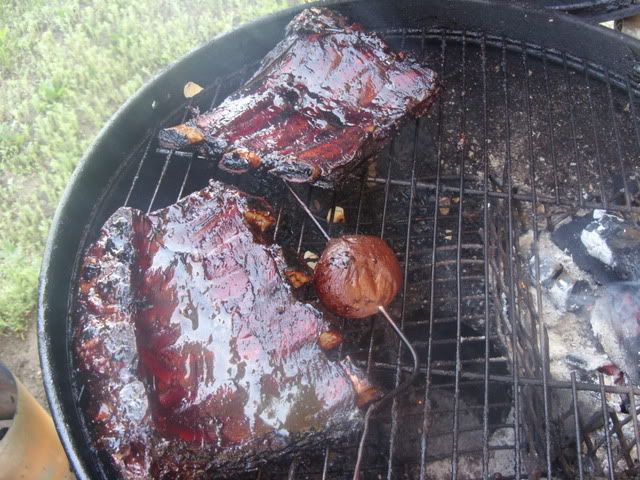 And onto a plate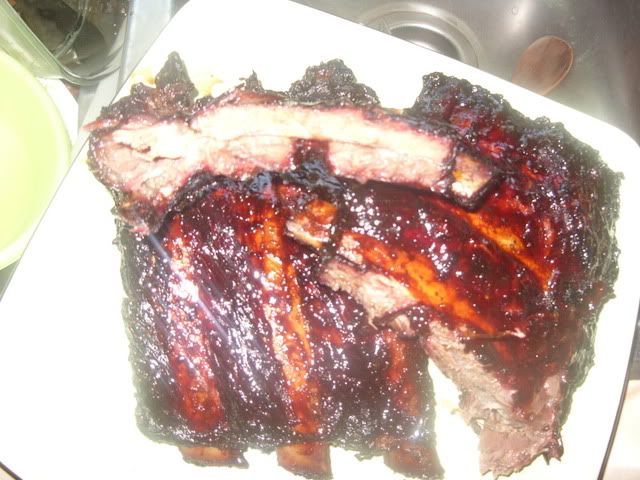 I would have liked to show you the corn on cob and baked taters but I had to put camera done and fend of prego.
Thanks for checking this out hope it makes your mouth water like it did mine. So much so I am munching on leftover rib and is only 8 am lol almost as good as bacon these ribs in that marinade is like beef candy on its own stick.
Happy Smokes