Jimmy Dean mild (1lb) + 19oz of decased Brats. Mix well.
Rolled to about 3/8" and slit the bag.
Added single layer of pepperoni, gouda, basil/garlic feta, sliced hickory smoked summer sausage, and many tablespoons of a chunky basil /tomato garlic sauce.
Rolled as prescribed in this fine forum.
Laid bacon out in parallel layers instead of weave. Lazy I reckon. Did add a single strip perpendicular on the seams and wrapped a couple half slices around the ends.
Smoked with briquettes and a few handfuls of wet apple wood. Maintained 250ish for 3.5 hours.
The brats with JD made an absolutely perfect shell. The chunky (not sweet) tomato sauce balanced out the richness of the sausage and pepperoni. Gouda and feta mixed is...well.. just pretty damn good!
Shy of pics but managed to get one.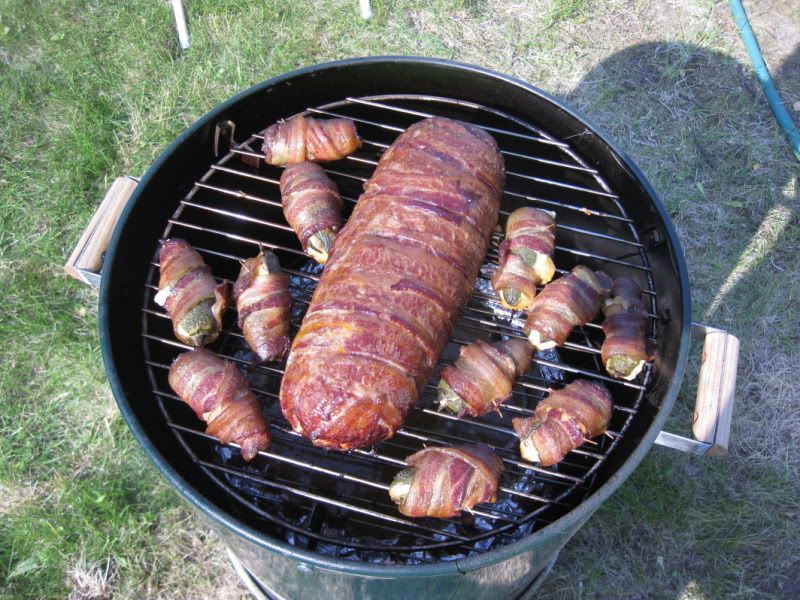 ABTs had cream cheese, basil, gouda, occasional feta, summer sausage, and hickory smoked bacon.
Awesome vittles. Made for a nice Alaskan summer day.
Great forum! Hope to contribute more in the future.