Well yesterday all I thought about was trying to slice some jerky on my new slicer. I called my butcher buddy and it was his day off.
I went to Sams' and found this and snapped it up.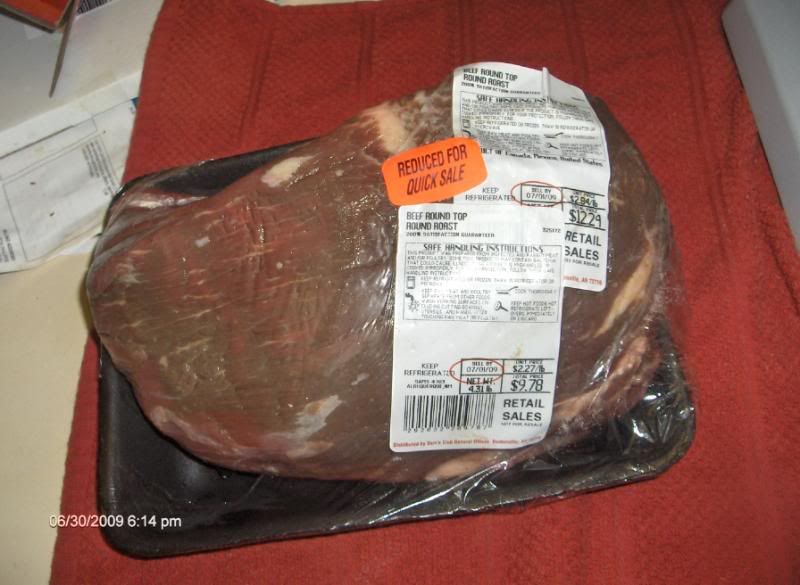 Not a bad price.
I forgot to take pics of the slicing but it went well, I cut it accross the grain about 3/16'. I got out my Yoshida's soy, 1 cup, a heavy dose of granualted garlic and lemon pepper, and added 2 1/2 tbs of Tender Quick. I could have went 4 1/4 but didn't want a salt over load. After about 3 hours here they are draining. I did a fry pan test and the salt was OK.
I set the MES at 150' since it runs anywhere 10' - 20' hotter. I smoked with hickory for about 5 hours with no water in the pan and the door cracked about 1/2' for circulation. At that point I set the temp down to 125' and went to bed. This is what I got this AM. It is bendable, still chewy and good.
When I asked Carol if she tried any when I got home, she said "Yes, it is great"
That made me a happy camper and gave me yet another use for my new slicer. I got a little over 1 1/2 pounds after trimming and dehydrating. Surprisingly it wasn't that smokey after 5 hours, hmm, but still good. It is addicting to say the least.
Next time I will try and score an eye of the round and wont have to trim the sinue out of the middle, that was annoying.
Good luck if you try it.