This came up in another thread and so I thought I would post it here again since it was lost in the crash of '08.
Since the time this was made, we've tried it again with some small shrimp and some fresh mushrooms. OMG! It was even better. After letting the soup thaw, I put it into a pan and started heating it slowly with the mushrooms in it. When it was hot, I added the shrimp at the end so that they wouldn't get rubbery.
Also since this time, I've learned a better way to peel fresh garlic from a member on this site but I'm sorry to say I can't recall exactly who. You take the clove and rub it back and forth in your very slightly moistened hands and the "paper" comes right off. It the cloves are getting older, you need to trim the hard end first or it hurts your hand.
************
----------------------------------------------
I got to wondering how it would taste using smoked garlic vs. regular unsmoked garlic. I knew that with those onions and then all that garlic that it could only be great either way!
The first thing that I notice is that peeling 1/2 cup of garlic (23 cloves in the "regular" and 28 cloves in the smoked) for each of them takes a little while! Here the smoked garlic wins hands down because even though I had to use more of them (smaller cloves and maybe some shrinkage due to smoking), they were MUCH easier to peel - just squeeze the end and out they popped.
After getting the garlic ready, I heated the oil and added the items here, but for the smoked garlic I held off adding them until after about 5 minutes since they were already "cooked" and I just needed to get them heated up some. Cooked until a nice golden-brown on the onions, about 7-10 minutes.
2 tablespoons olive oil
1 1/2 cups thinly sliced yellow onions
1/2 cup whole peeled garlic cloves
3 bay leaves
2 1/2 teaspoon salt
Black pepper
Next comes the stock and arggg!!! I forgot to dice up the garlic for this stage! Chop chop chop I go while adding the stock to keep everything just slowly moving forward while I play catch-up. Here's where I had to veer off a bit and since I was out of smoked garlic (I guess I shouldn't have eaten a couple of them earlier!) I used fresh "regular" garlic in both dishes. I also used dried basil and thyme instead of fresh and used them at the same 1 tsp level. Brought it all up to a boil and then down to simmer about 40 minutes.
2 quarts white chicken stock
2 tablespoons minced fresh garlic
1 teaspoon chopped fresh basil
1 teaspoon chopped fresh thyme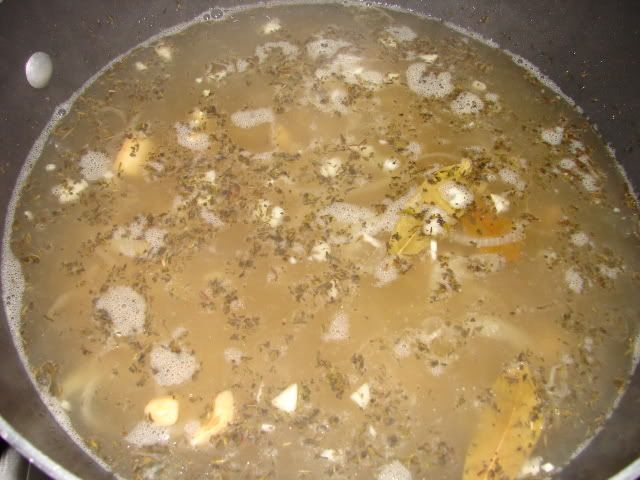 40 or so minutes later it was time to turn the heat back up and add the bread and cream, whisking it in until the bread pretty much dissolves. While whisking this up I went ahead and removed the 3 bay leaves from each pot.
2 cups torn or coarsely chopped day-old French or Italian bread
1/2 cup heavy cream
10 or so minutes after that and I added the Parmesan cheese and then it all got put into a blender (had to do this twice per pot due to the quantity). I live in a rural setting and while I like that most of the time, when it came to finding fresh Parmesan cheese to grate, that just wasn't going to be an option at my grocery store. So the plastic bottle variety was used instead (it SAYS that it is "real" cheese, but what would Gordon Ramsey have to say about it!)
1/3 cup fresh, coarsely grated Parmesan cheese
This is what it looked like coming out. Nice and smooth.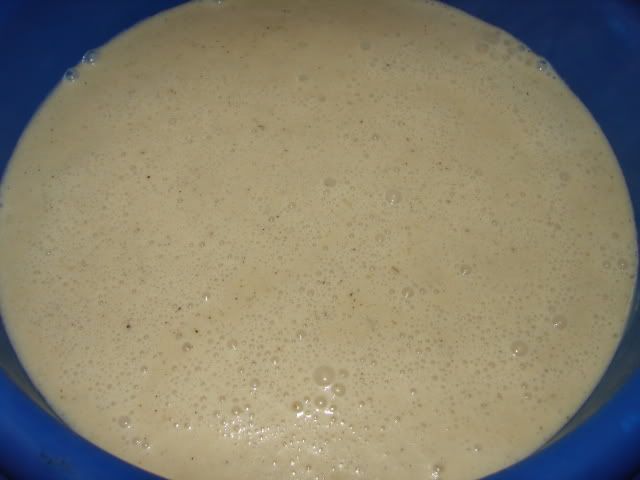 Some croutons round it out.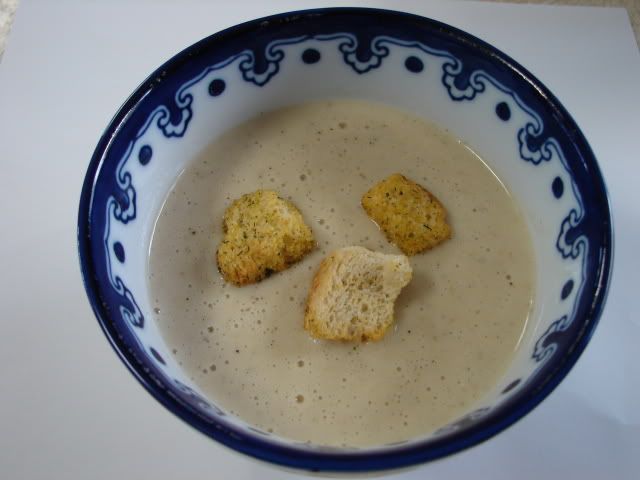 You might have noticed that I'm not showing pictures of the smoked garlic soup vs. the "regular" garlic soup. That's because you can't see any really. You can look at it real hard and then look some more, and then you might be able to convince yourself that there's a difference. But if you think you can do that, then have someone else mix them up and see if you can tell which is which. I don't think you'll be able to.
Flavor differences were subtle. You could taste a hint of smoke with the smoked garlic, but again, it was subtle. The next day while trying it again the hint of smoke was slightly stronger but not much. Almost perfect really. So, if I had to choose, I would pick the smoked garlic version just because it does have that little bit more complexity to it, and then because it's so dang easy to get all that garlic peeled!
Other thoughts while enjoying this were that it would be very good adding in a bunch of shrimp, and/or some diced mushrooms. You could also add the shrimp and mushrooms to it and spoon it over some pasta.
It's so flavorful, without being too strong, that you'll want to make an even bigger batch next time!
[/font]