Hi Folks.
Well, last week I told of my adventures in curing a "pancetta" or Italian rolled bacon. I basically followed this procedure with a few tweaks:
www.chow.com/recipes/10699
That adventure resulted in my conclusion that "me no like pancetta. me like smokey bacon."
So into the smoker it goes! (I was already smoking some belly bacon which I now know I should have cold-smoked. see other thread) So this is after 7 days with a dry cure and 5 days rolled tightly and left hanging to mature.
And here it is: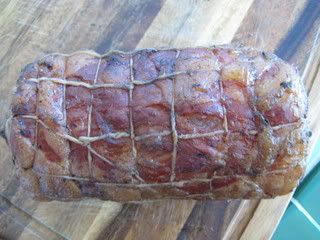 The lighting is bad in that pic. Let's try again: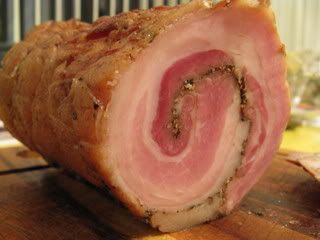 Sliced up: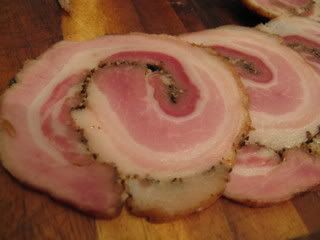 This was much better. All the sweet spice flavors like nutmeg mellowed out a bit. (I think that's what turned me off in the first place.) Nice smokiness without being too strong or ham-like. The slices are good as is or crisped up.
I kinda like the shape and think they'll be good on english muffins, eggs benedict, bagels, and burgers. I think I might try this again as regular breakfast bacon but rolled up. Lots of black pepper!