While camping last week I did an underground pit meal.....it's just about the same way that I do whole hogs, but on a smaller scale.
Everything turned out pretty tasty.
I made chicken, a pot of hoppin john, corn, tatoes and jalapeno cornbread.
First I seasoned everything and wrapped it....
Dug the hole and burned down some wood to make the hot coals....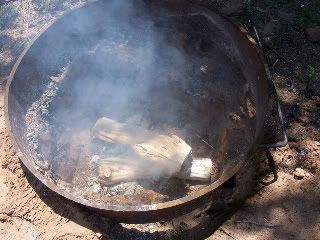 Moved the hot coals to the center and built the ends up to hold an oven rack...
Set the seasoned/wrapped food on the oven rack...I put the cornbread pan on top of the hoppin john pan....
I didn't have a sheet of metal to cover the hole so I used a second oven rack covered with foil....
I carefully sealed the edges with dirt by hand to keep the heat in....
Then buried the whole thing with dirt and went off to enjoy a cold beverage....