With the advise and guidance from the fine folks here at SMF I think I have a workable process to use wood for fueling my new Char Broil Silver Smoker. I'm using a thick steel wok(actually part of a truck tire rim)on the turkey fryer burner to ignite the hard wood. Had a nice fire going in about 20 minutes.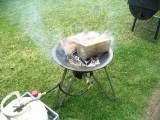 Kept adding wood to create coals and used an old broken shovel to remove coals from the fire and move to the fire box. Had the smoke chamber above 350o in pretty short order. Used the vents on the fire box to stabilize the temp at 225o by the stack.
Had thin blue smoke going for a couple of hours as a test run and the temp stayed pretty steady. Still need to do the baffle and tuning plate mods but in a week I should have this dialed in.
Next time I fire this bad boy up it will be for some butts. Thanx go out to all of the people here who posted there mods and wood burning info. It makes jumping into uncharted territory not so intimidating.