I knew it was gonna be a lil tough to get it going, but this is what I woke up to at 6:30 sat morning!
13-14 inches of white stuff, andI got my shovel and went to work clearing a path to the Lang.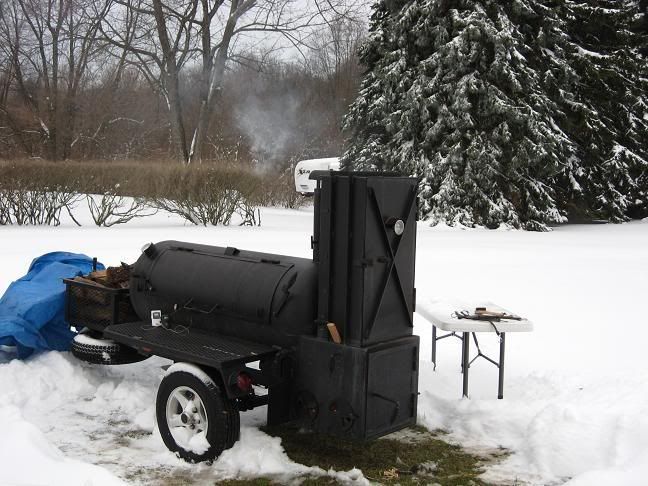 Got it cleared out and a fire going pretty easily, no wind and the promise of a sunny day. Temp at starting time was 25 degrees.
Doin pork this week, so last night I injected and rubbed up 2 7-8 lb butts, and rubbed up 4 racks of BB's, stuck em on at 8 am.
Gonna try a different approach today. Sliced up the fat cap on one and doin it cap up, the other is unsliced and cap down like I usually do them. They are both injected and rubbed identically, and ar currently running the same temp (148 at the 4 1/2 hr mark) .
Here they are along with the ribs just before foil at 2 1/2 hrs, and I tossed in a couple fatties( JD with mazz,cheddar in one, and JD with pepperjack in the other).
The fatties came off at 11;30 and are cooling for the taste test.
The foil is gonna come off the ribs at 12:45, hoping to do the 2 1/2 - 1 1/2- - 1 method instead of 3-2-1.
Pics to follow.Everthings white cept the green grass around the smoker, gotta be a good thing!