One of the drawbacks that I saw repeatedly commented on was the inability to easily add chips to this smoker.
I gave it some thought last night and came up with the following.
I took a metal coathanger and used my Dremel to clean the coating off. I then cut 4 pieces in 5 inch lengths. I marked each length at 2" from one in and 3/4" from the other. I then bent at the marks to make what almost looked like a safety pin. Pic below.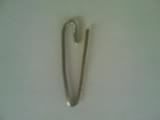 Take the folding rack and put it on the drip tray with the sides of the rack laying flat. Then take the bent wires and hook the metal handles on the drip tray and the bottom rod of the folding rack. Pic below.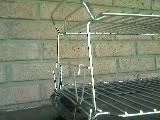 Then simply pull the rack sides up and slip the top rack on as normal. You can then lift the racks and drip tray out of the unit to allow adding of chips.
If you line the drip tray with foil you will want to do this before connecting the hooks.
The racks will be hot and you also need to make sure that you have a good grip on the top and bottom rack to make sure it does not come apart when you lift it out.
Sorry for the low quality pics...my digital camera is dead so took these with my cell.