This if for Vlap or anyone else lucky enough to catch this fish.
Alittle background on this fish for those unaware. Most of the people along the gulf coast really didn't eat this fish much, but when Cajun Chief Paul Prudhomme's Blackened Redfish craze, they became an over night sensation. Almost brought to the brink of extinction, the Florida and Texas Net bans brought this wonderful fish back to amounts that have not been seen in years.
Here is my One-Eyed Grandma's favorite Redfish recipe.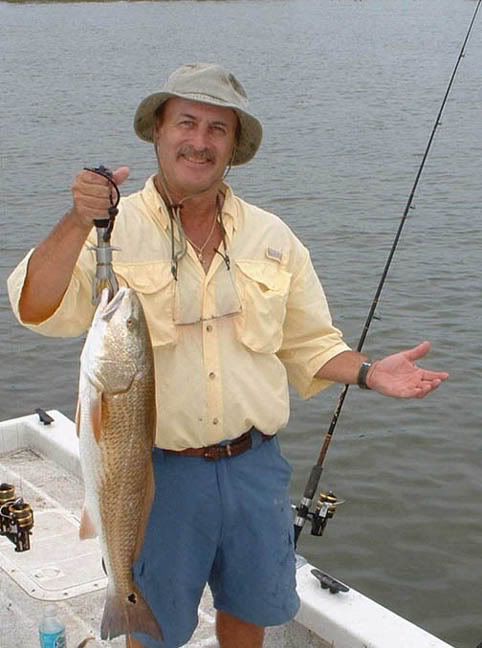 First, you have to catch one
In Florida, there is a size limit of 18 to 27" inches. I really like the 22 to 24 inchers.
Some of my favorite spices.
Fillet the fish, but leave skin and scales on the fish. The heavy scales of a Redfish will protect it from the heat of the grill.
I usually coat with either EVOO or mayo before sprinkling on the spices.
Make up a small amount of marinade. You'll only baste it twice or so. Don't use real hot, hot sauce. Those like Franks, Crystal or Cholula are perfect.
I use about an 1/8th a cup of sauce, about 1/8 stick of butter.
Best on a covered grill. I have had some friends that will tent with aluminum because of open face grills. Usually takes about 25 minutes tops, depending on size of fillet. Best to stack coals up some on the thicker end of the fish. Tail will start to curl when close to being down.
Steaming and ready to come in after a brush with sauce.
Dinners on. Noodles, salad, red wine and Grandma's redfish.
Notice how the skin serves as a dish, easy to just scoop the fish right off the skin.
After trying this recipe, you will very rarely see me blacken a redfish anymore. Even great the next day when cold.