Well People I am finally smoking again. The kc smoker came in a few days ago and yesterday I picked up some good looking top round (first cut) It was thick and very good looking. On top of how sexy that meat looked it was buy one get one free!!! I didn't have alot of time yesterday so I kept it simple. A quick rub with Jeff's rub and the meat was ready.
While it rested absorbing all that goodness that had been rubbed on, I set up my version of Dutches wicked beans. These two fit easily into the smoker. I could easily fit another chunka beef, pork butt or a fattie in there.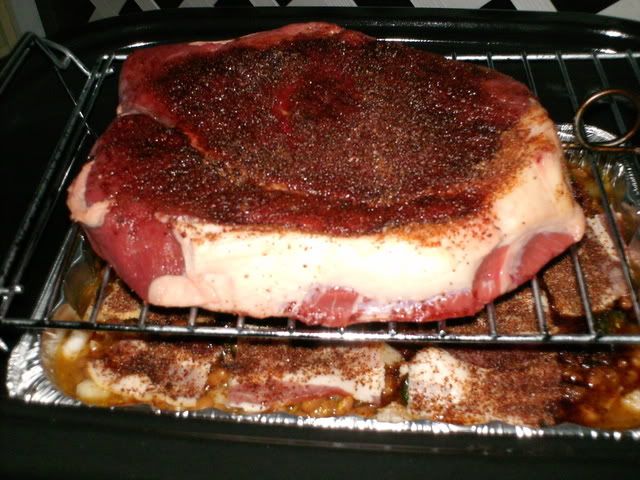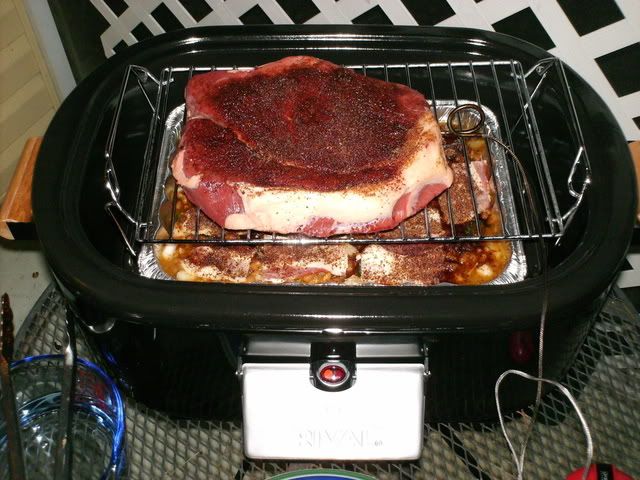 The finished product. It was a bit smokey for me. Maybe that hickory I bought wasn't hickory? Or maybe I didn't have the vent open (slaps forehead) The top round wasn't a great chunk of meat but maybe with a longer cook it would have been better? The water evaporating from the pan was dripping onto the beans from the top. Any ideas how to prevent this?
I think next time I will use less wood and make sure the temp is lower instead of hoping the dial is set right.
Over all it wasn't a bad first try. I think with some work it will really turn out some good food. I wonder if the water tray has to have water in it?
I like it and I know the future smokes will get better as I better learn how to use it.