Homemade Sauerkraut
Equipment:
Harsch crock or jars with fermentation locks, tamper, knife, cabbage cutter, large container and potato masher. 
Ingredients:
Cabbage, Canning Salt  (12 Lbs. of cabbage produces 7 quarts of kraut)
Note: Never use iodized salt.
Retain one large leaf per container, halve cabbage and remove core.  Slice core thinly by hand, in food processor or discard.
Slice cabbage.
Cabbage sliced
Add canning salt - 4 Tbls. or 67g = 1.2%  non-iodized salt per 12 Lbs. cabbage and mix thoroughly.  Other spices such as Caraway seeds may be added at this time 
Tamp cabbage until moisture appears.
Cabbage after being tamped.
Place in fermentation container tightly to 3/4 full to allow for weight and expansion.
Place one large leaf on top of cabbage.
Place weights on top.  
If using Harsch crock, place lid in mote and fill with water.  Allow to set at room temperature for two days and then move to cool area (60 degrees) for three weeks then refrigerate, if desired place in smaller containers such as quart jars and refrigerate.  The sauerkraut may be consumed at this time or ferment further for a more desirable flavor. After 90 days you will have a very desirable kraut, after one year it is unbelievable.
Note: To keep slime from developing on top of kraut, it is important that air is not allowed to enter fermentation vessel during primary fermentation.  No peeking after day two.
Kraut after 3 weeks fermentation.
Placed in jars and ready to be refrigerated.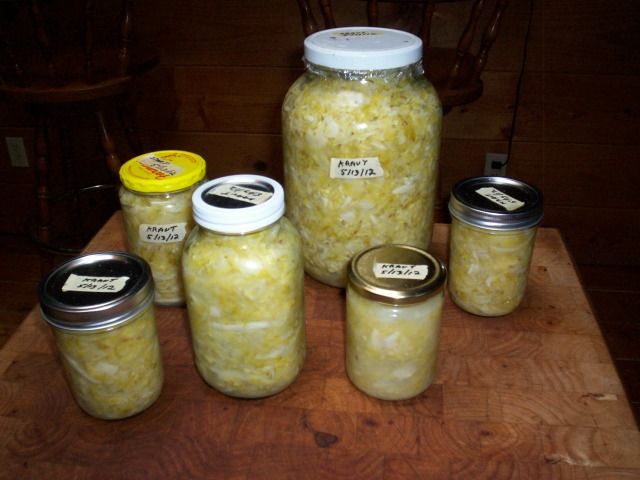 Compressing cabbage in glass jars.
Cabbage weighted down using cheese cloth and glass marbles for weight.  Homemade air locks made with original jar lid and wine fermentation air lock.  
Hope this helps.  If you have questions, please ask.
Edited by Mr T 59874 - 3/23/13 at 7:09am