I have made BBB and Canadian Bacon in the past but never belly bacon so I finally scored some bellies and gave it a try. My buddy just bought a half a pig and I told him I would buy the bellies but he just gave them to me saying he wanted a few packages of the bacon in return. I liked the sound of free bacon so that was a definite score for me. I cured up 24lbs with TQ for 7 days and it turned out way to salty for me so I had to soak it for 5 hours in water to get it to a good level for me. I covered them in garlic & onion power and pepper and let them dry in the cooler over night. The next day I cold smoked them for 12 hours and this is the most smoky bacon I have ever had since I haven't cold smoked my past bacon for that long. It's really good but I'm hoping it will mellow out just a little bit more. I let it rest two days then I sliced and packaged everything up. Well enough on the details here is the proof.

The bellies cut in 6 somewhat even pieces.



TQ all measured out.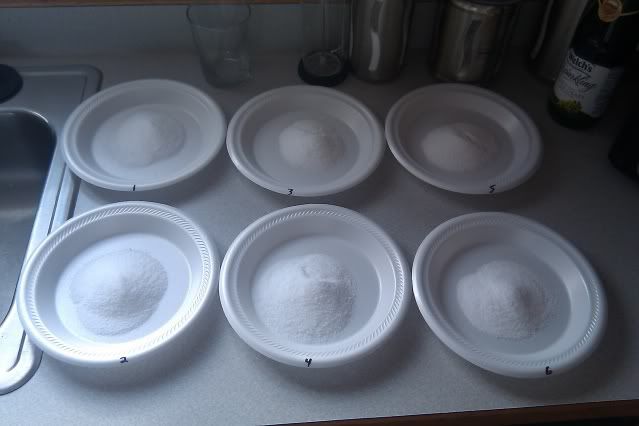 After all the curing is done and they are taking a bath to remove some of the salt flavor.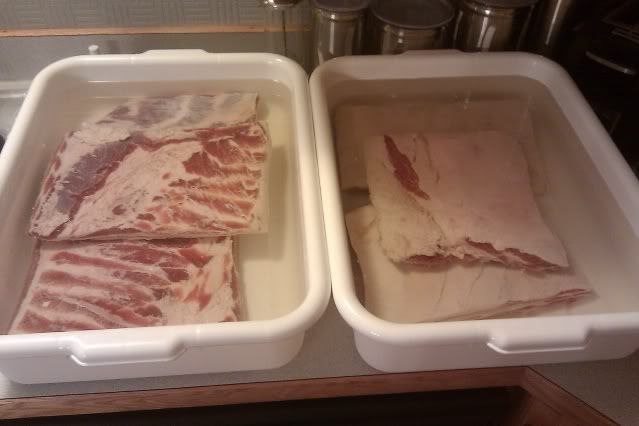 On
e of my many fry tests.

Going into the smoke shack.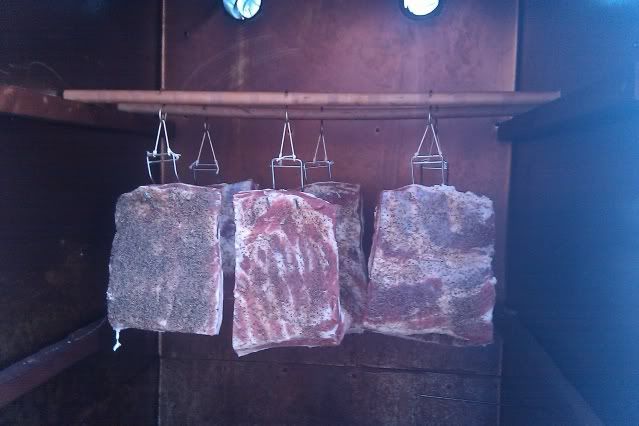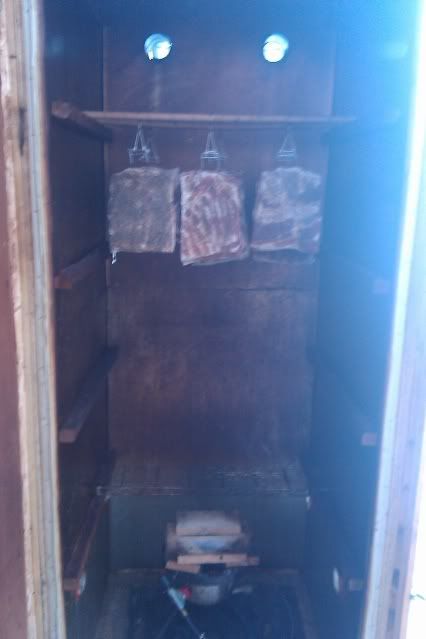 Twelve hours later and you have this.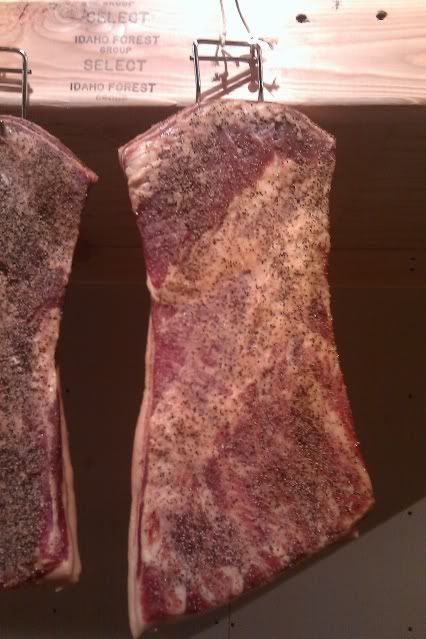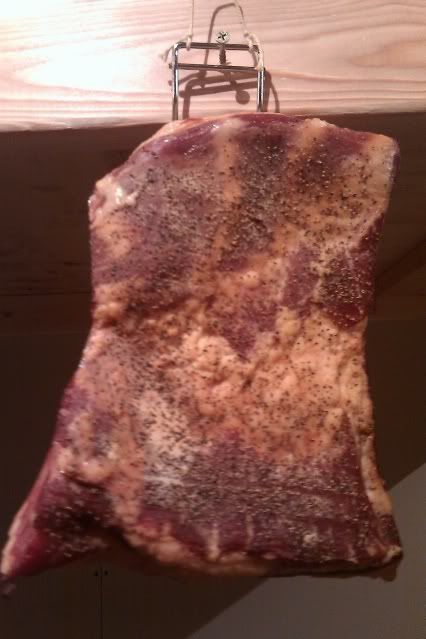 All of them hanging for a bit before they got wrapped in glad wrap for a few days rest in the cooler.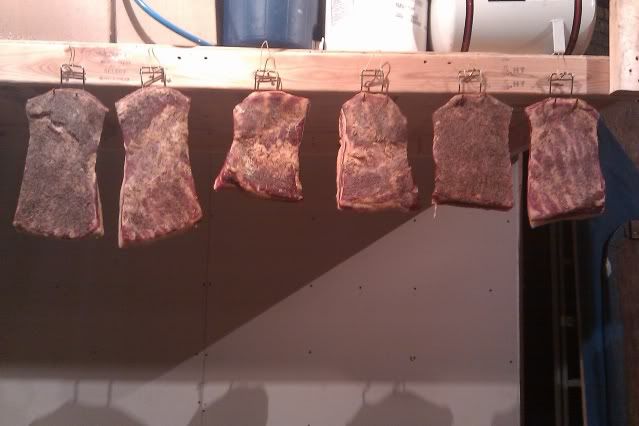 I forgot to get very many pictures of them as I was slicing them as I was the only one there and my hands were dirty. But here they are right before the slicing started.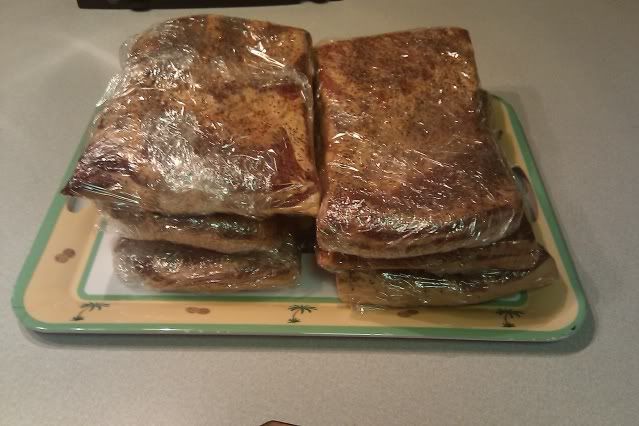 So now I have a few questions. Is there a right and wrong way to slice bacon? Kind of like how you would go against or with the grain? I couldn't see any grain so I didn't know which way I was suppose to slice it. I just sliced it the way that gave me some meat and fat instead of all meat or all fat. I was kind of limited on what I could do because I have such a small slicer so I had to cut them into smaller pieces but I would try to slice them one way and it appeared I was getting all fat some times so I would rotate them and go the other way and sometimes that helped but I still ended up with a bunch of bacon that it pretty much all fat.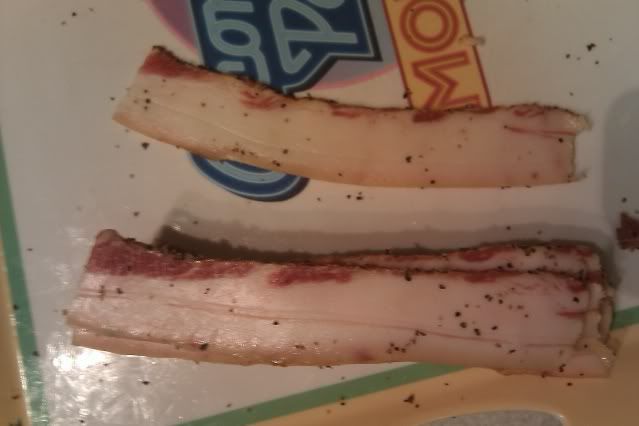 So my questions is what should I do with this stuff that is all fat? I packaged it up and labeled it fatty and was thinking I could use it for sausage or something like that. I put all the ends and misc. strange pieces in a big vacuum seal bag that I will save for making sausage as I know some people love using bacon ends for trim/fat in their sausage.

I realized that I need to get a bigger slicer for sure if I am going to continue to do bacon because I wasn't able to slice it the way I wanted to because my slicer slide isn't long enough. As soon as the wife got home I said I need a new bigger slicer. And much to my surprise all she said was "OK". Sounds like I will be ordering a new one soon. Thanks for looking at my post.