I picked up a couple of turkey breasts we had on sale last week at work for $1.19lb.(Honeysuckle Bone-in) While I was making some ground chuck, an idea snuck in my brain! What if i bone out the breasts after i thaw them? Brine them....and hang them in a ham sock to smoke them? Should make them easy to eat anyways.
Sooo here goes...
After I got them home and soaked them in some fresh water for an hour, i rinsed them and placed them in a strainer to drain. 4 decent sized breast halves totaling 14 pounds.
Next I mixed up some of Pops low salt brine in a clean bucket...only extra I added was a TBS of granulated garlic....Meee loves me some garlic!!!
 Here is one of the breast halves so you gan get a better look at the size.
I put some ice in a gallon zip lock bag with some water and placed it on top to wiegh the meat down into the brine.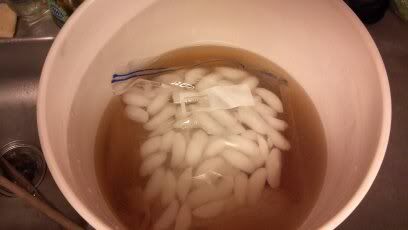 With the lid on it will go into the garage fridge for 3 days....I am pretty sure that is how laong Pops says to soak em' with his brine.
Be back Sat to update this thread with some smoke!
Later
SOB
Edited by SmokingOhioButcher - 11/3/11 at 4:57pm