Here you go. Again, please excuse the blog verbiage; I didn't want to re-type everything 8)
So, I had a 7 lb pork shoulder lined up for Voyage # 2 on my new ProQ. After last weekend's maiden voyage including beef ribs and pastrami, I wanted to try something different. I also took a crack at ABT's, but you'll learn about those later this week. I did a lot of research and asked a lot of questions on a bunch of BBQ forums. Finally, I settled on rub and wrap the night before, no slather, and fat-cap down.
As stated, I rubbed the pork heavy the night before and wrapped in saran wrap. I want to thank Fred Bernardo over at Tasty Licks BBQ Company (
www.tastylicksbbq.com
) for graciously providing me with some rubs to try. On this outing I chose Fred's "Original Smokin Good BBQ Rub". It was awesome, with some sweet, some chili powder and some hints of black pepper shining through. Fred has a ton of stuff available at his site - racks and stands and gadgets of every kind, along with a bunch of different rubs and sauces. Oh - and music supply as well. I really recommend that you try one of his his rubs!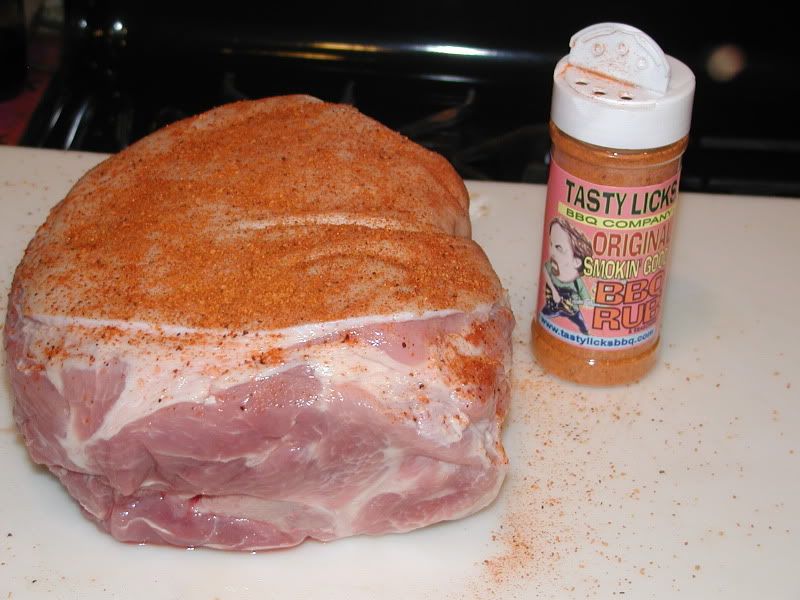 So, the next morning around 8:00 I drag out the ProQ and fill the charcoal basket as full as possible. I foiled the water pan and filled it about 2/3 full. For kicks, I threw some fresh sage and basil in the pan - my wife had an herb garden growing not too far from the smoker.
Someone told me that if I dumped the chimney right and the middle (and didn't spread the lit briquets), that the temp would come up quicker. That's what I did, and it did seem to make a difference. I don't yet have any wood chunks, so I had to do the "chips in foil" routine. After about 3 hours, I added some more charcoal and snapped a pic.
And so it went, until it hit 160. At that point I pulled it off, foiled with some apple juice, stoked up the ProQ and threw her on again. Now we're at about 7 hours. I'm at the bottom of the bag of charcoal, and the internal temp has barely moved since I foiled it. We're at about 170 now. the Q seemed to be struggling a little and I wondered if the bottom of the smoker had accumulated enough ash to restrict airflow. I grabbed some gloves and pulled out the basket and dumped the ash. I put the basket in, topped up the basket with more charcoal, popped the vents and decided to go have a nap. About 2 hours later I emerged from my siesta and went out to check the smoker. I turned the thermometer on and wow - 190, baby! Woo hoo. By the time I farted around getting everything ready - it was at 195 and off she came! I left foiled and got the rest of dinner ready. I know some guys put them in towels in a cooler for 2-3 hours, but it was dinner time, and we were hungry. It got an hour in the foil on the top of the stove, while I finished with dinner! I peeled back the foil and - YUMMMMM!
The family loved this! We served sauce on the side - nothing exotic - Sweet Baby Ray's. Had some penne alfredo and veggies. Mmmmm
Lots of leftovers to take to work the next day! It was a hit!