Doing my first buckboard bacon on the GOSM today. Started off with about a 6lb butt, which I deboned, and split into about 2.5 lb pieces. Trimmed some of the fat off.
I cured it for 6 days, using 1TB TQ, 1TB Brown Sugar, and 1/2 TB fresh ground black pepper per pound on the bigger piece, and omitted the brown sugar on the small one, to see what I like better. I turned the meat about every day in the fridge.
Took them out today, soaked them in water for about 3 hours, and let dry. I netted the bigger piece, and hung the other on a "utensil holder", that cost me 84 cents, which doubles great as a bacon hanger
On a sadder note - the Polish president, his wife, along with a delegation, and a bunch of other people died in a plane crash in Russia. The sad irony was, that they were going to commemorate the 70th anniversary of the Katyn massacre, where 20,000 Polish army officers were slaughtered by the Soviet secrete police. Even worse, some of the passengers were relatives of those Katyn victims. I was born there, and came over in 1989, but still can't help but to feel sad for the old country. Anyway, on with the Bacon!
I'm using a mix of cherry and apple, smoking at 200. Will post follow up pics:
The smaller piece, starting to sweat after applying the rub:
The larger one: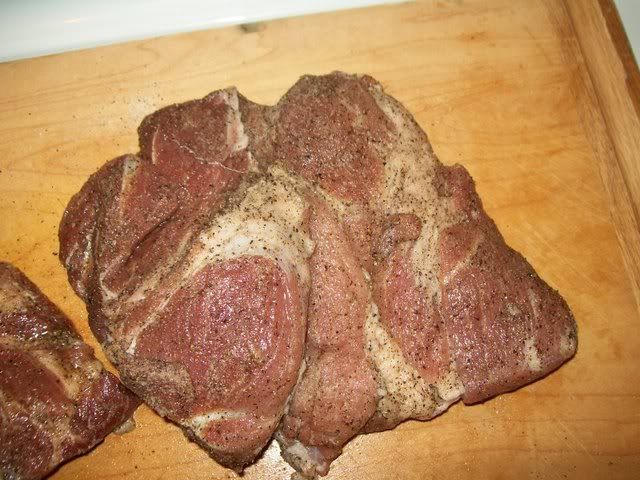 Into the fridge they go:
After the soak, drying period, and netting:
Into the smoker they go:
Here's a couple of hours into the smoke:
Out of the smoker, looking and smelling beautiful: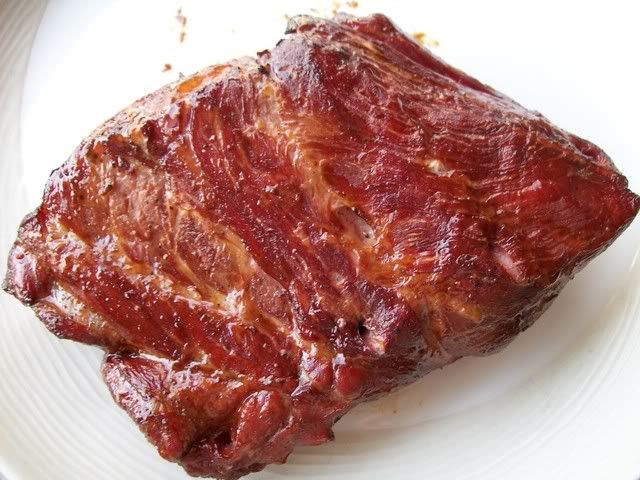 I was very happy with the results, being my first time doing BBB and all. It tasted delicious - I was worried that the salt might be too much, but it was on the money. I didn't have sliced pics of the netted once, because I brought it over to my parents. Definitely doing this again. Thx for watching.
Martin