Doing some smoking right now on the WSM, but fired up the Weber kettle for lunch today.
Knocked out a killer batch of arrachera tacos for lunch. Got some skirt steak I had the butcher run through the needle tenderizer. Marinated it in some fresh squeezed lime juice, olive oil, minced garlic, minced jalapenos, salt & pepper. Only marinated 1.5 hours in the fridge as the meat starts to "cook" in the citrus.
Weber kettle was cranking at a high temp, and the marinated skirt cooked only maybe 5 minutes total. Also grilled some salted whole jalapenos.
Tacos were old school, arrachera, white onion, cilantro, avocado slices, queso fresco. Brilliant.
marinated skirt:
on the fire:
done: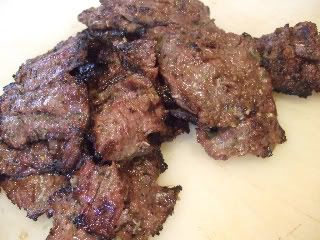 sliced then chopped:
my lunch:
thanks for checking out my pics.