Two of my kids came home from college last Friday for Spring break, so I decided to smoke up some pork butts for pulled pork. My 19-year old daughter is a pulled pork fanatic, and claims mine is the best she's ever had (must at least be better than what they serve in the dining halls).
My UDS has been buried under 2 feet of snow for almost a month, but everything finally has melted away so I could use it again. I was having some serious smoked meat withdrawal.
So, I thawed out 2 butts I had in the freezer - a total of just under 14 pounds. I made up a rub recipe from Steven Raichlen's BBQ USA book ("South Carolina Smoked Shoulder"). It uses pretty much standard ingredients - paprika, dry mustard, salt, black pepper, white pepper, garlic powder, onion powder, cayenne).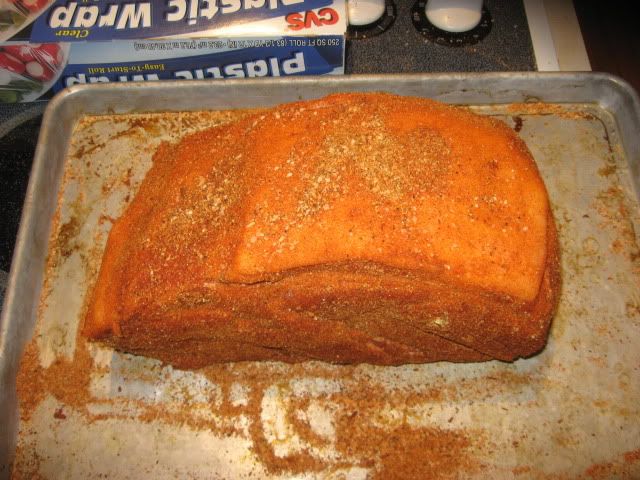 Rubbed in the mixture, wrapped in plastic, and put the meat in the refrigerator overnight.
Up Friday morning at 5:30 to fire up the smoker with RO lump. I got some cherry chunks for Christmas, so I decided to use those for this smoke - I had never used cherry before. The meat was allowed to warm to room temperature, and went on the smoker at 6:30 am at 225 degrees.
After the first four hours, I spritzed every hour or so with a mixture of bourbon and apple juice (1:2 ratio).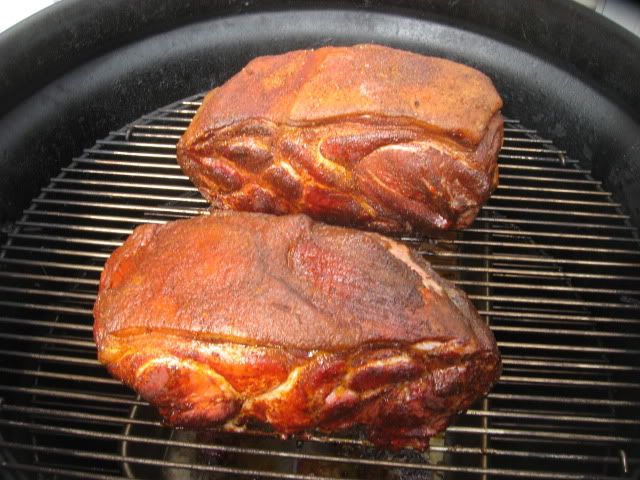 I made the mistake of not completely maxing out the capacity of my fuel basket, so at 7.5 hours I had to take the meat out and reload with charcoal and more cherry chunks. I kept the meat at temperature by throwing it on my grill for about 10 minutes at low indirect heat.
Here are the butts at fuel reload time:
Got the usual plateau at about 160 degrees, when not much temperature rise was seen for over 2 hours. I foiled the meat at 170 degrees and finished it in the oven at 250 F.
After 12 hours the temp had climbed to about 200 F, so I wrapped the butts in towels and threw them into my cooler to rest for about 2 hours. Here's one just before pulling: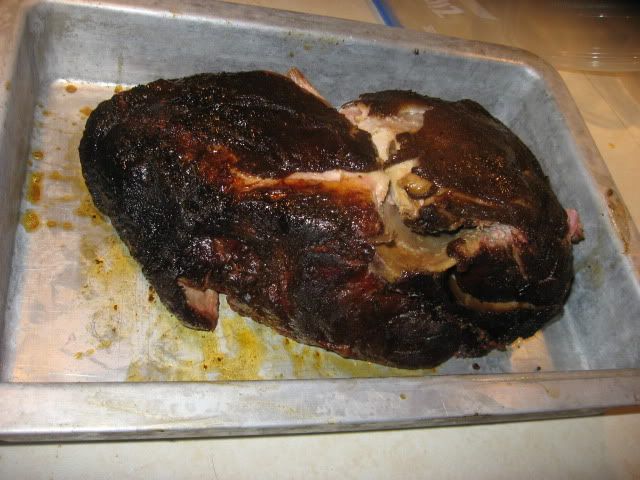 Used SoFlaQuer's finishing sauce for the final touch. Here's the finished product (well, half of it anyway):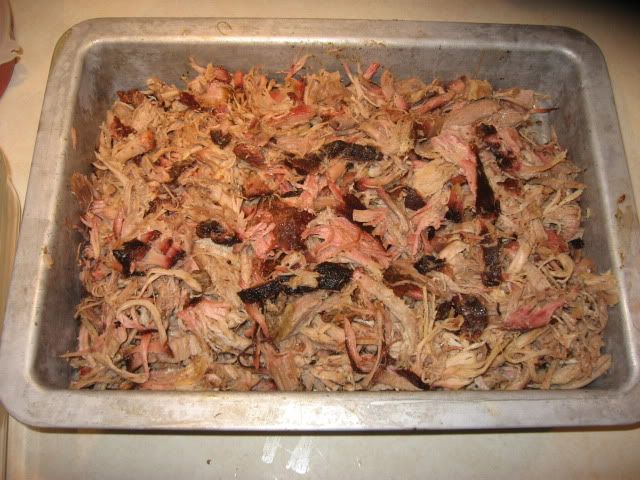 Added in some of Dutch's beans (first time for those - excellent!), and some coleslaw for sides, and the feast was on!!!