Time for a big ol' batch of pulled pork.
Living in Texas I just had to go "big", so I got 8 of them critters for a total of 61.67 lbs of butts.
Got them all rubbed up and into the MES around 8 pm.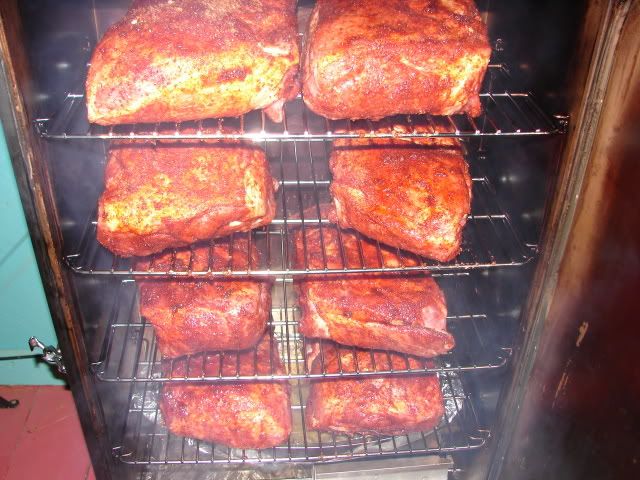 Here's a couple of interesting shots. These were taken at 2:30 and was in the high 30's.
I last had added wood at 1:10 so all of that was way gone by then.
That means that all of this is cooking/water vapors. Very good smelling I might add!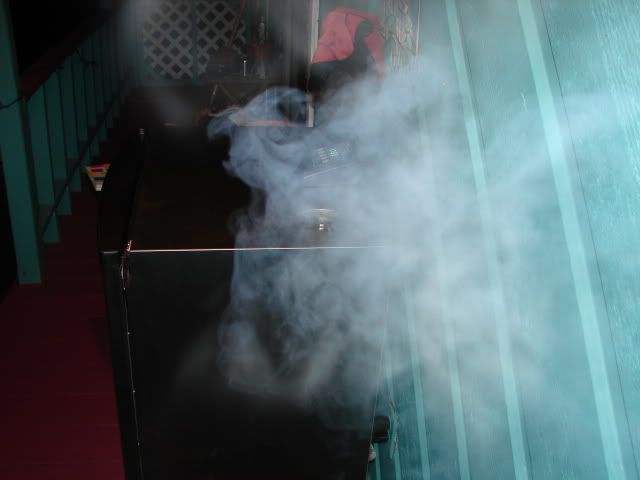 Here's what they looked like when they hit 165 and were ready to be foiled.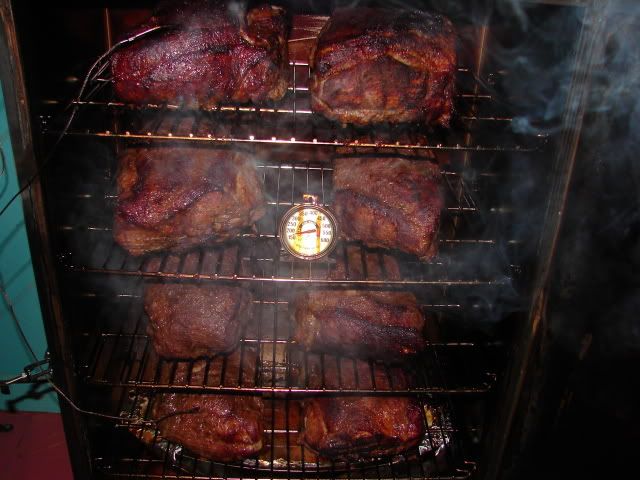 Yawn! At 6:15 the ET-73s beeped to tell me it was time to wake up again and get back to work.
The meat was at 200.
I don't have nearly enough coolers to handle 8 of these things
(although with the oven and nuker I could have made it happen),
so I figured this was a good time to see how well the MES was insulated.
I set it to 100 and yes, went back to bed. After all, it was pretty cold out there at 34 degrees!
Back up at 8:30 and everything is holding beautifully -not cooking,
but resting just like it would have in a cooler wrapped in towels.
I don't have a shot of all the finished meat because as I pulled a couple,
I'd get them vacuum packed and put them into the refrigerator to get them started cooling down.
I ended up with 33 finished pounds of pork
(plus some mighty tasty nibbles along the way
for quality control purposes!),
so about half of the weight I started at.
Wish you could have been there to smell it (and pull/pack it
)!