Maple Bacon
Maple Sugar Brine
1 tsp Baking soda 1 ounze Maple Extract
1 Tbs Table salt 175 ml Pancake syrup
1 cup White Sugar 1 sp allspice
8 cups Water (approximately) 1/4 cup Morten's tender quick (Cure)
In a large container add half the water, then all the ingredients. Mix and add the remaining water.
I add my bacons slabs one at a time, so that I can inject some brine into the really thick ones. This is to ensure the cure gets allt he way into the meat.
When all the bacons are in the brine they should be just submerged in the mixture. If they aren't you can add a little more water. Adding great amounts of water with throw off the brine mixture. For this recipe I used 4, 1 1/2 lb bacon slabs. Leave the bacons in the brine for 3-5 days in a fridge or at 2-4 deg C. Bacons should be stirred once every day or two to ensure that all parts of all the bacons are cured.. Keep covered.
Smoking
I smoked them at 160 deg F, in a Centro 4 rack digital Electric smoker. Which is really the only way to go for smoking at ambient temperatures below -20 deg C.
I only use wood chips int he smoker for about half the smoking time. I use Maple chips, but hickory works good too.
In the smoker for about 6 hours, depending the on thickness of the bacon.
Peppered Bacon
To make you Maple Bacon into Peppered Bacon put about 1 Tbs of pancake syrup on the outside of your smoked bacon slab. Run the syrup all over the slab until it is fully covered and sticky. On a plate make a mixture of ground black pepper and crushed peppercorns, enough to coat the bacon slab. Put the bacon slab onto the plate and rub the pepper onto the outside. Let it cool if needed, then slice and package. Mmmmmmm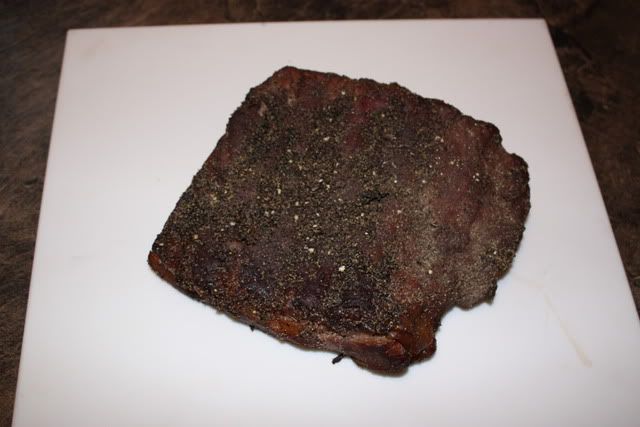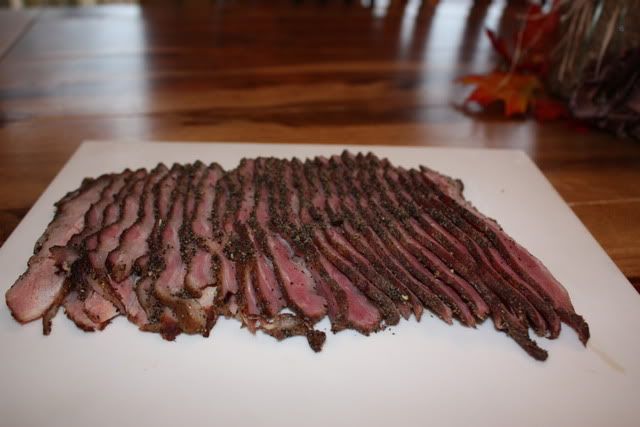 Enjoy