Well my search is over!!!!!!!!!!
A few days ago while driving North to look at a wrecked truck I was helping a guy with I noticed a small Propane outfit with a bunch of old tanks in one part of their yard. SOOOOO I was telling my buddy Ben we need to check this out and see if we can score a couple tanks for our builds (we both want one) well today Ben was off work so he drove up to see them and after some begging and pleading (I think he cried a little)
He convinced them to let us have a couple of their scrap tanks that they nomally have a guy haul to scrap. We hooked up to the flatbed and drove up today and this is what we came home with.
Two of these three 500 gallon tanks!!!!!!!!!!!!!!
They look horrible but believe me when we are done with them they are gonna be purdy!!!!!
Loaded on the trailer
and back at the house
this picture looks like one big tank but its not!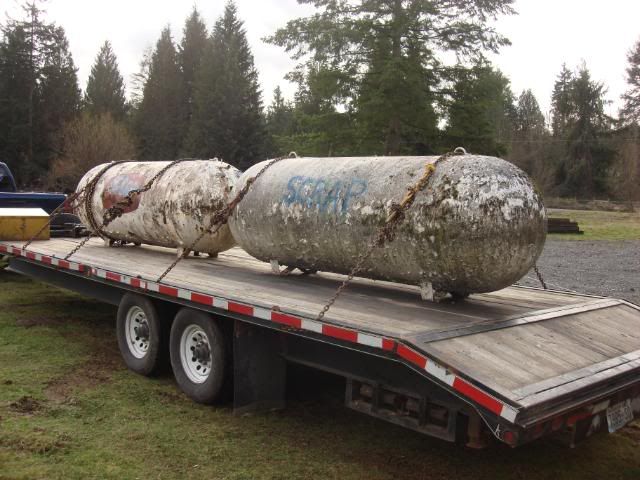 It will be a couple weeks while we clean and get them ready to cut before we will start the real work. I have a bunch of stainless rack material (Like real heavy expanded metal) that we will make racks out of and we still need to decide exactly how to build the smoker itself. It will be reverse flow.
I am thinking about dividing it in half and putting the woodbox in the middle so I can use just one side or both I will be going over all the build threads I have saved (a LOT of them) and deciding how to go. I will keep you all updated on the progress