Hello everyone! My name is Ryan and I am from a small town nestled in between the wonderful cities of Flint and Saginaw, Michigan
. I am new to the art of smoking, but already it has grabbed me by the ankle and will not let go. The only cure seems to be more smoking. Anyway, a couple of weekends ago I came a across a GOSM on craigslist. The guy wanted $60 bucks for it, which probably isn't that bad of a deal, but personally I am a big fan of bartering. So, I offered the guy three cabinets that I had just gotten free from my neighbor and $25 on top of that. Bingo, it turns out the guy was looking for cabinets. So, for $25, i got a smoker. Check it out. It is charcoal and came with six racks. For the price, I couldn't pass it up.
My birthday is Friday and what better way to celebrate it than doing my first batch of jerky in the smoker. So, I started the prep tonight. I went to the local meat market and snatched up a rump roast that looked quite splendid. I cut it all up and weighed it. I am working with almost 5 1/2 pounds exactly...wish I had a bigger scale though...mine maxes out at a pound.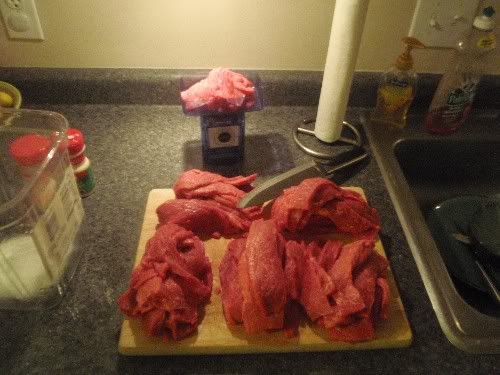 I threw together a brine and put the meat in. I will let it cure until Friday. Here is a question. What is better than 180 pieces of twizzlers in a bucket? How about a twizzlers container full of jerky. Mmm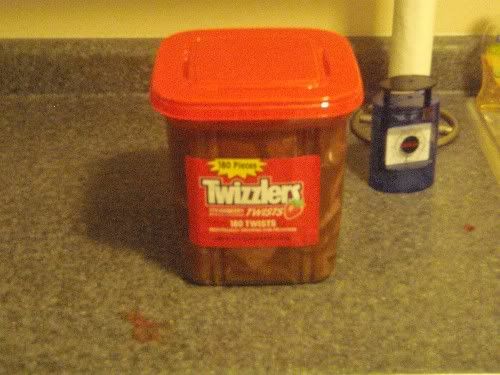 I hope it turns out. I will not post the recipe until after I try it. I wouldn't want to mislead anybody incase it is terrible. This is turning out to be the best birthday yet.