At my request, my wife picked up a cut of corned beef so I could try my first pastrami. Unfortunately, the piece of beef was not very big at about three pounds, and had a big layer of fat running right through the center. So I thought I would go ahead with the attempt, figuring if it turned out poorly, no big loss.
I soaked the corned beef overnight in water to remove excess salt. I changed the water about six times over 18 hours.
I made a rub with coriander, CBP, kosher salt, brown sugar, paprika, dry mustard, white pepper, and garlic. Here's the corned beef with rub applied: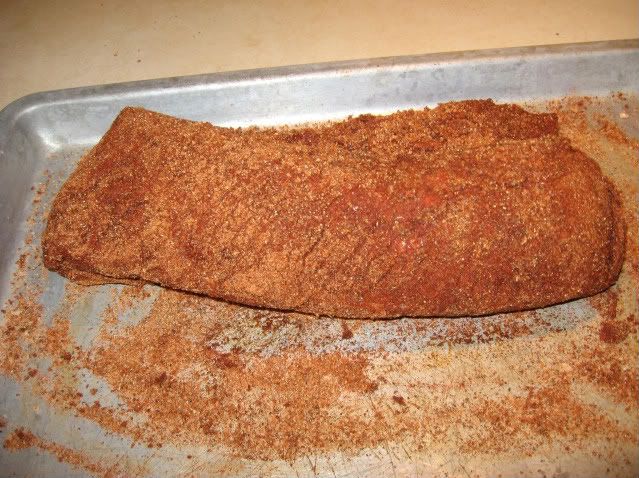 Smoked it for about 6 hours at 220-235* over lump charcoal and apple wood. Pulled it at 195* internal and foiled, wrapped in towels, and let it sit in a cooler for a couple of hours. Let it cool before slicing. Here's the finished product: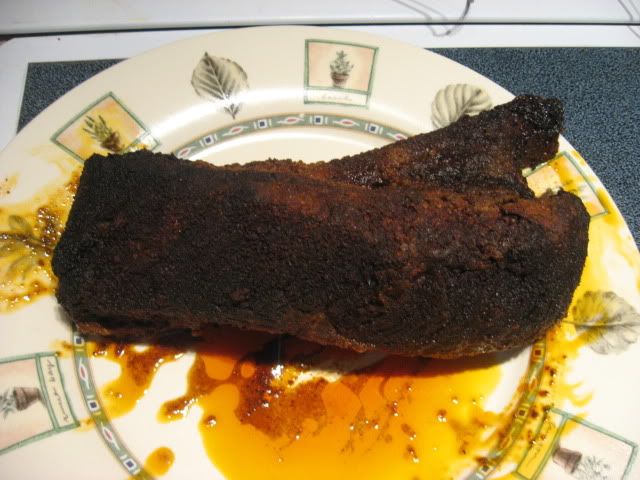 Poured some of the juices that ran out back over the sliced pastrami to make sandwiches:
It actually came out pretty well. I split it in half lengthwise along the big layer of fat, and trimmed a lot of the fat off. So, I ended up with two pieces resembling pastrami "tenderloins." Sliced them up thinly and made sandwiches, some with provolone and dijon mustard, and some with sauerkraut, thousand island, and swiss, Reuben style. Made really good sammies on rye bread!!!
I'd like to try this again with a larger and better hunk of meat -at least five pounds of corned beef flat cut.