My first ABT's...
Ingredients:
24 Jalapeno peppers
8 ozs. Cream cheese
8 ozs. Cheddar cheese
8 ozs. Chorizo (Mexican style sausage)
Bacon
Cajun Injectors, Cajun Shake seasoning
Wood used: Maple
(These portions are enough for about 30 large peppers.)
Begin by cutting off the tops of the peppers then core them out.
I used the Jalapeno corer from Chile Grill over my garbage disposal and then rinsed out the pepper to make sure all the seeds were out. Then I put the peppers upside down on a paper towel to drain while I continued.
Then using a toothpick, poke a hole in the bottom of the pepper to allow any fluids/grease to drain out of the pepper and avoid a boil over.
(The Jalapeno corer makes it real easy, I recommend it's use).
Next I mixed the above ingredients (except the bacon and peppers) into my food processor and mixed to a texture comparative to icing on a cake.
Then filed my cookie cutter with the filling and injected it into the peppers.
Next I cut the bacon into thirds for covering the top of the peppers.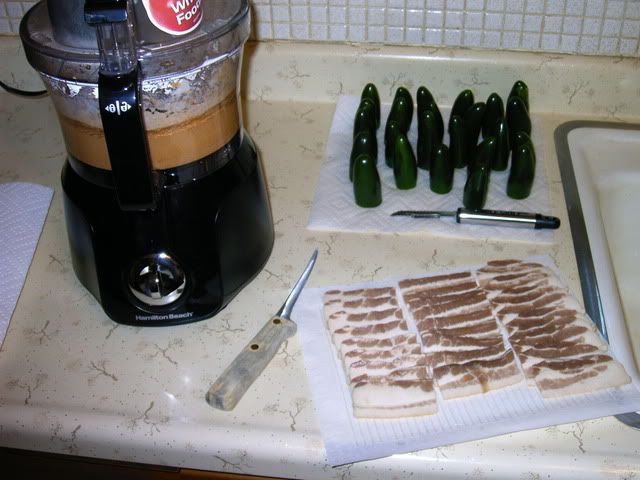 Peppers stuffed and ready to cover with bacon.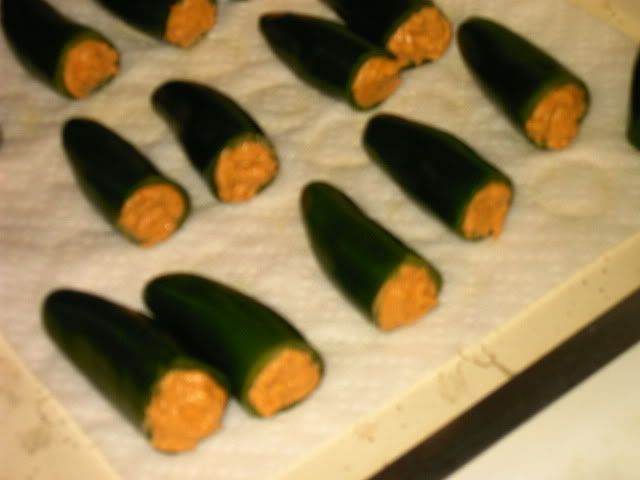 Peppers covered with bacon and bacon secured with tooth picks to help avoid filling from cooking out. Then loaded onto the Chile Grill and put Cajun Shake seasoning on the bacon.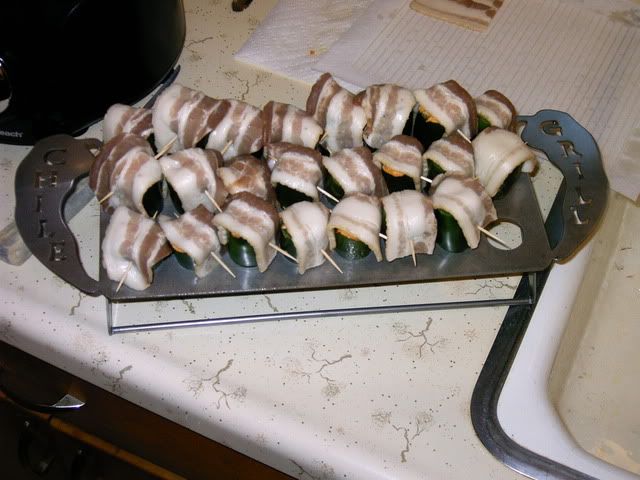 Into the smoker set at 250 degrees for approx. 2 hours. I put aluminum foil under the Chile Grill to avoid any peppers from touching the smoker rack and burning the bottom of the peppers.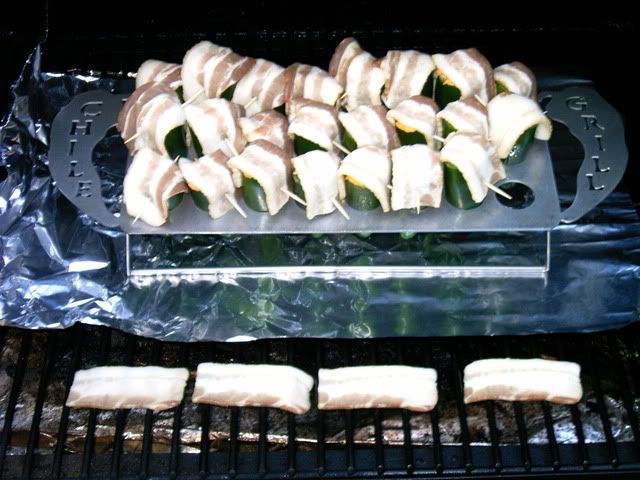 Peppers coming along nicely in the smoke. Notice the grease that has dripped out of the hole I made in the bottom of the pepper with the toothpick and onto the aluminum foil.
And the finished product.
They turned out fantastic. When I bit into the first pepper the juices squirted all over the place. lol
If anyone noticed, I had put a couple of pieces of bacon on the rack and seasoned with the Cajun Shake, the flavor was no less then great....
I hope this helps someone who isn't sure how these are made and thanks to everyone here who helped me directly or indirectly. You folks here made it possible for me to do this. Thank you!!!
I hope you enjoyed my q view and thanks for looking.