So I wanted to do a comparison of brining vs a regular pulled pork recipe. Also I was trying the new technique I learned about here, foiling the butts at 165.
First the brined pork butt after 24 hours. I tried to stir it 1/2 way through.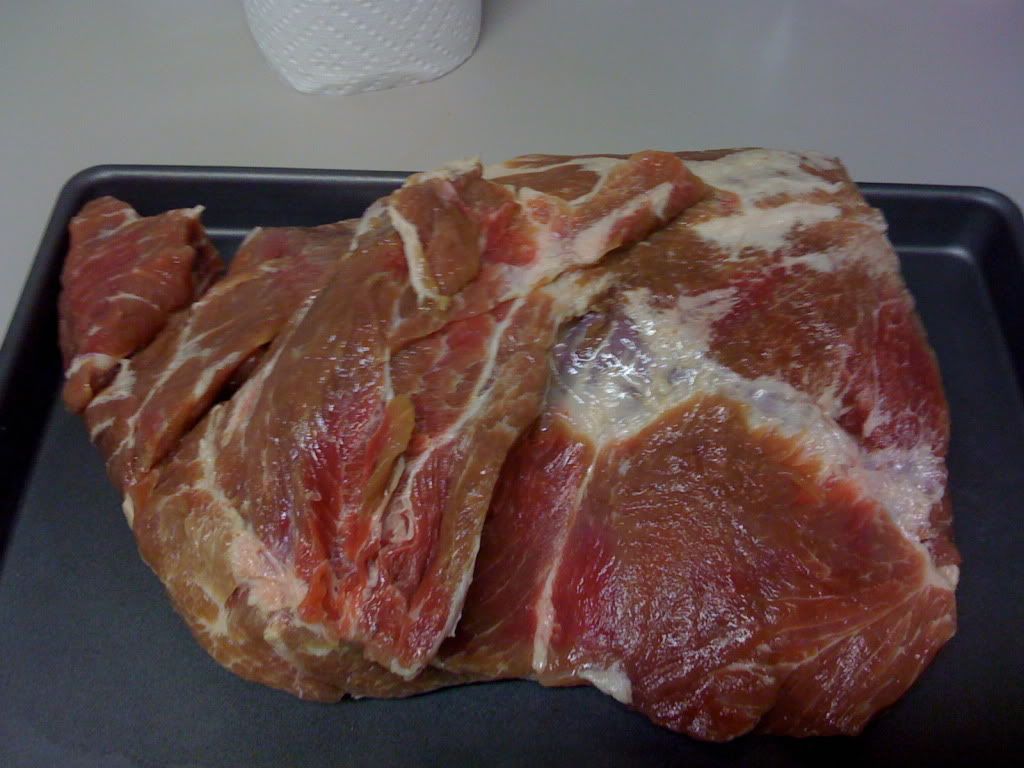 The Mr Brown butt was rubbed and wrapepd up tight for the same duration. Now both butts as they are ready to go into the smoker. The brine butt was taken out and rubbed in the pork rib rub (from Jeff), the night before. 7AM start time.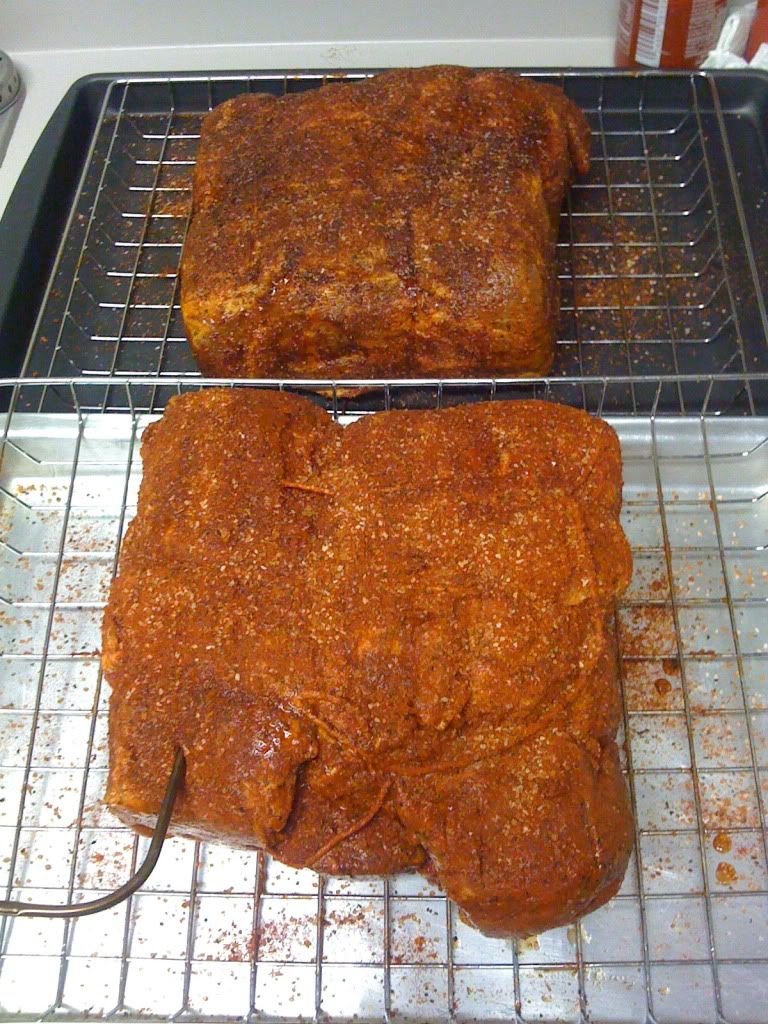 MR Brown on the bottom. The Brined butt was very wet and it was hard to keep it rubbed, even with mustard. I smoked until 160 then wrapped in foil. Mr Brown basted with the sauce that recipe comes with, brined butt with apple juice and spiced rum.
Then... well... I got a phone call to visit a friend, forgot to reset the smoker timer on my bradley, got a little "Beer brined" myself, and made it home after the smoker had been off for 30 minutes. The butts were at 191, so I quickly turned on the oven to finish at 205. FTC over night.
I "pulled" the brine meat first. I quote "pulled" because this stuff fell apart itself. I did it all by hand, and I could keep larger chunks if I wanted, or shred the whole thing up.
PS - iPhone cameras suck.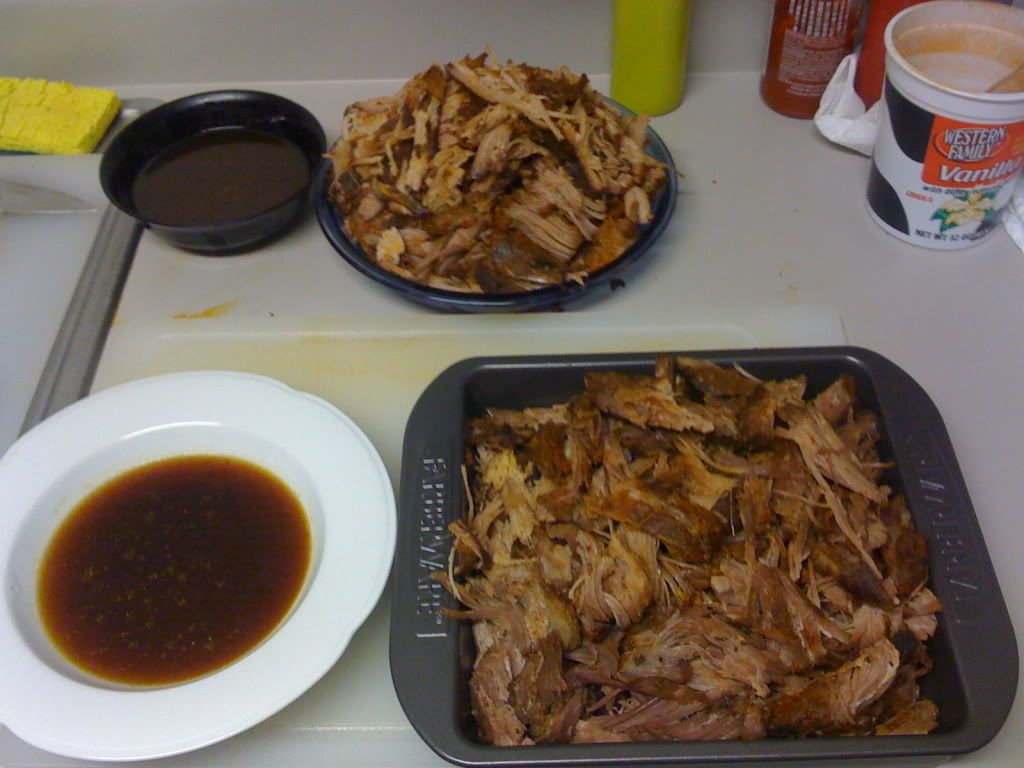 The Mr Brown pulled the same way. Final yield with juice from each package.
Vaunted Vinegar Sauce:
1 cup Cider vinegar (i used apple cidar)
1 tbl brown sugar
1 tsp kosher salt
1/2 tsp black pepper
1/2 tsp Red Pepper Flakes
combine, boil, then simmer for 10 min.
I made 3 flavours. Brined butt with it's juice, Brown butt with it's juice and Brown butt with a vinegar sauce. I found that the brined one with the vinegar sauce tasted too much like really good salt and vinegar potato chip flavour, which I was not a fan of. If you like srtong salt / vinegar I suggest trying this.
The brined meat was noticably more tender and had a salty flavour by itself. A taste test with other people said they liked the brine or the Brown / vinegar. It's hard at this point to say which was better, as they were 2 very different finishes.
I can say I really liked the brined meat texture and flavour by itself, and even with its juice. With some sauce this would probably make very good pulled pork sandwiches.
The Brown / vinegar tasted really good as is, so I would probably do that to just eat it straight.
One last question, is my butts when I got home dropped from possibly 200 down to 181 before they started getting heated up again to 205 in the oven. I am wondering if maybe I could have over cooked them? They literally were falling apart, I could have dropped them from 5 feet high and they probably would have exploded apart.
Finally, my prize at the end, BBQ PORK FAT. It tastes like bbq pork, nice and spicy, ready for use on some other dish!