Hi All,
I smoked some silver (aka, coho) salmon today. I've worked on and off since college as a fly-fishing guide in the Bristol Bay region of Alaska , so I've got plenty in my freezer. :) Anywho, my aunt and uncle are coming over tonight and they really like salmon, so last night at about 10:30 I decided to pull some out of the freezer and brine them (I know some people don't like to brine 'em). Here is the recipe:
1/2 gallon of water
1/2 cup kosher salt
1/2 cup of Mushroom soy sauce (its salty sweet and THICK)
1/2 cup brown sugar
1 tbs black pepper
1 tbs fresh chopped ginger
1 cinnamon stick (I know, bizarre)
2 bay leaves
I left them in the brine overnight. Here it is: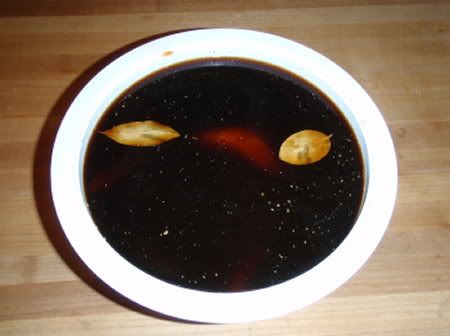 When I took them out of the brine and dryed them off this morning they looked like this (I'm a moron and deleted a picture of the whole tray full of fish, so this is gonna have to do . . . sorry):
Then I let them sit out for about an hour to dry, and then smoked with straight cherry at 150 for 4 hours (they were up to about 105 degrees at this point):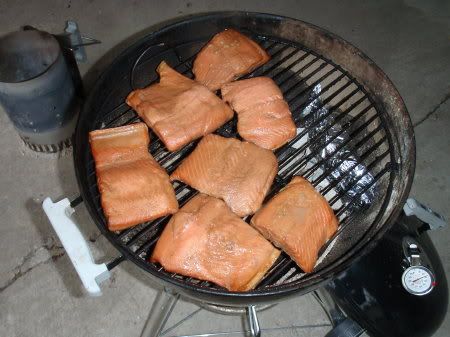 At this point I increased the temp to 170 for an hour, then up to 250 for an hour and they were done (pulled 'em off the smoker at 150 degrees).
I brought them in the house and covered w/foil for about 1/2 hour. Here they are 'completely' done:
Taste really good - salty, and a very nice, delicate smoke flavor b/c of the cherry. Maybe a hair too much ginger (next time I'll cut it in 1/2), but overall I'm pleased.
Thanks for lookin'!!
Best,
Trout