basic ribs, nothing special, but since RichTee said he never see's my smokes, I'm posting it anyway
The box loaded up, sorry its crooked, was having a hard time with the door closing itself. only cooking for 2 today, so no racks needed. I cut my my ribs to plate/portion size before I cook, as it makes the wrap up easier!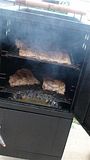 A little TBS once it got settled back down from the door being open.
Fruits of my labor, tasted great.
thanks for looking