Howdy folks. So last weekend pork butts were on sale so I got me a close to 9 pounder. I figured there'd still be room in the smoker, so why not throw on another lil' one that would be ready to eat while the biggun was finishing up.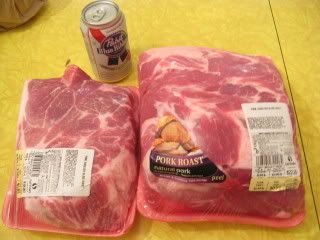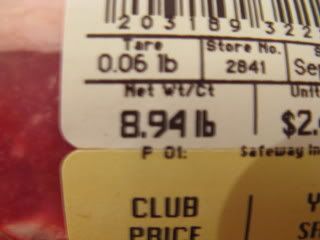 I slathered both with dijon mustard and then applied a rub made of:
3 Tablespoons each of salt, turbinado sugar, dark brown sugar, cumin, chili powder, black pepper, onion powder. I also added 2 Tablespoons of garlic powder and 1/4 cup of paprika. Here are the butts after spending the night all rubbed up: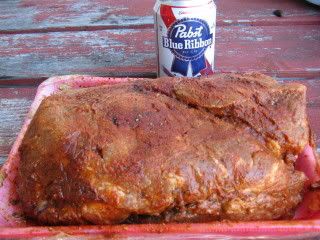 They were smoked with a blend of mesquite and hickory for close to 14 hours cuz I had trouble keeping my temps up. Mopped with apple juice. Because I had trouble getting a high enough temp, the bark did not develop as nicely as it could have. Oh well...first time. Rested in the cooler for an hour. I wanted to wait longer but it was already 1am and I needed to work at 6am. I didn't have the camera handy so I forgot to snap a pic before I started pulling but halfway through I remembered how much I enjoy others' qview. So I dug it out and I hope you enjoy this one too.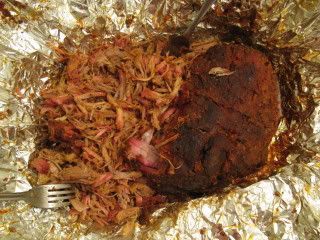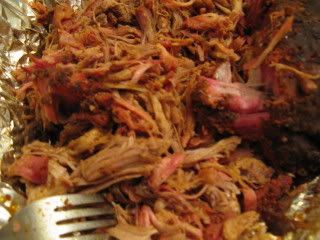 The pork was juicy and sweet. The bark wasn't as crusty as could be and the smoke didn't penetrate as deeply as it could have. I would have liked a deeper smoke ring but I guess that's what happens when your temps are too low. I'll keep working on that. Thanks for reading.