This past Saturday we hosted our annual gathering at our house for the classic car cruise known as the "Helluva Cruise". I did a few butts on the Silver Smoker for the event. This is without a doubt the best PP I've done to date but also the first time I foiled. This shot was taken after people started getting into it. Couldn't keep em away!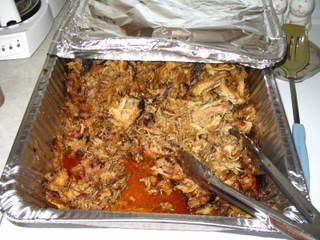 This is a shot of a Smoked Corn Salad side dish I like to make in the summer. The ingredients list is as follows( I don't measure much).
Smoked (or roasted)corn
Smoked red onion(diced)
Smoked red and green peppers(diced)
mayo
sour cream
ranch dressing
parm cheese
cheddar cheese
Chili cheese Frito's
Mix all ingredients together except the Frito's. Crush the Frito's in the bag and mix in well right before serving.
This is a shot of it before I added the dressing and Frito's. Again I got busy with the folks being there and didn't get a finished pic.
But I did get a lot of pics of some classic cars. This is a dodge a friend owns. They stopped by for some eats before the Cruise.
Part of the parade that goes right in front of my house.
A sample of some of the over 300 entries.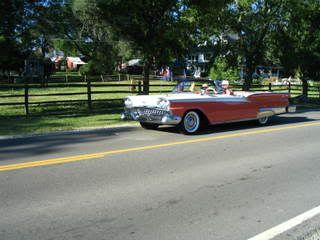 And a shot of part of the crew we had over for the event sitting on the berm. It was a perfect day!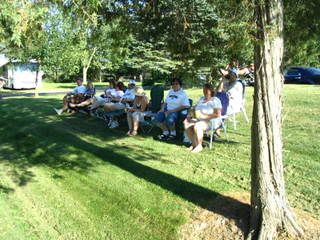 Have lots more pic of guests and cars but this gives ya a little taste. I think this event would benefit from a BBQ comp as part of the festivities but I don't know anything about running one and I'm pretty busy with my own party.
Thanx for looking!
Lou