Hey Y'all!
I finally was able to get the camera away from my wife and do a bit of Q-view documentation on some ribs I cooked up yesterday. I've been on vacation since the 19 th and promised my son, when we returned from the beach, I'd fire up the GOSM Big Block and do some ribs. Well we got back Saturday night and right after the car got unloaded I pulled two racks of spares out of the freezer and let them thaw through Sunday. Sunday night they got a nice rub and wrap and back to the fridge.
Rack 1 and 2 after a night sleeping peacefully in the fridge!
I pulled these guys out about 30 minutes before I fired up the GOSM. Once the TBS began, in they went.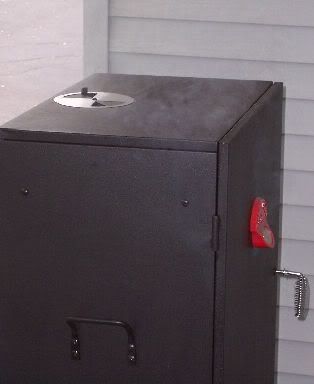 Not the best picture of TBS but with gray siding on the house and being a bit photo challenged it's the best I could do.
My plan was to 3-2-1 them, as I've been doing the last several years (thanks to you good folks who turned me on to this great spare rib method)! Every hour I gave them a nice spritz of straight apple juice to keep the moister up. The biggest challenge I've found with the GOSM isn't lack of moisture in the unit, far from it. Every time I open the door my glasses fog so bad I have to pull them off to see! But I spritz anyway, as old habits die hard.
After the three house of smoking with a 50/50 mix of apple and hickory at a temp of between 220 and 230, I pulled the ribs to do the wrap.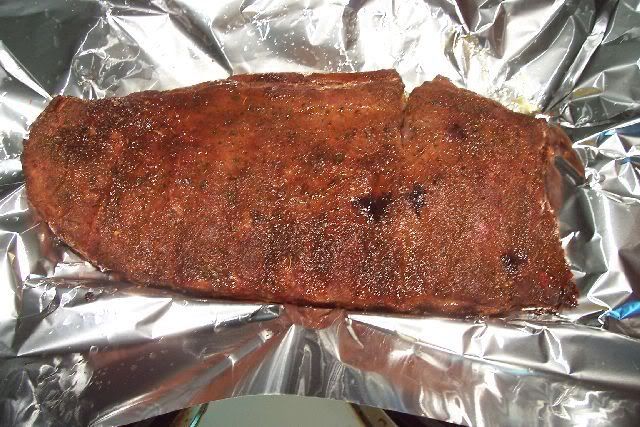 Here's rack 1 and 2 pre wrap. Everybody got a nice splash of apple juice at this point and back to the smoker for the next two hours. I cranked the heat up just a bit to 250 and came back in 2 hours and 15 mins.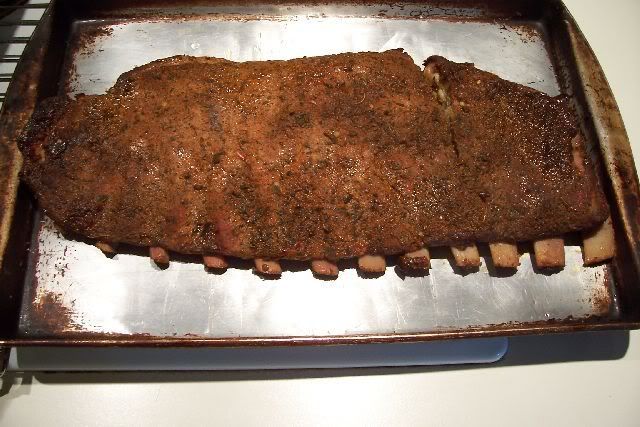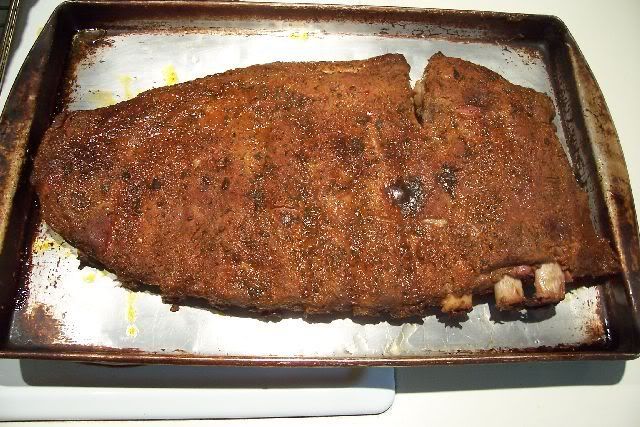 Ahh! what a beautiful thing when the bones start to show! The funky cut you see was there when I bought these ribs. The butcher that did the packing was placing these in packs about a third the size of the normal flat styro container and decided a slice on the big end, which they buried on the down side, was needed to get then packed efficiently. What can I say. They were cheap and I bought 50 pounds worth. The cuts only cosmetic and seem to have no effect on the overall finish and hey, I'm going to cut them off eventually anyway!
Well, now we're off to the grill. I've pre-heated it but only have the far end burner going and the internal temps only running at about 250 by now. So on go the ribs. Each side get a light, thin coating of my and my wifes favorite sauce. Just a bit of "Show Me" to get that final glaze!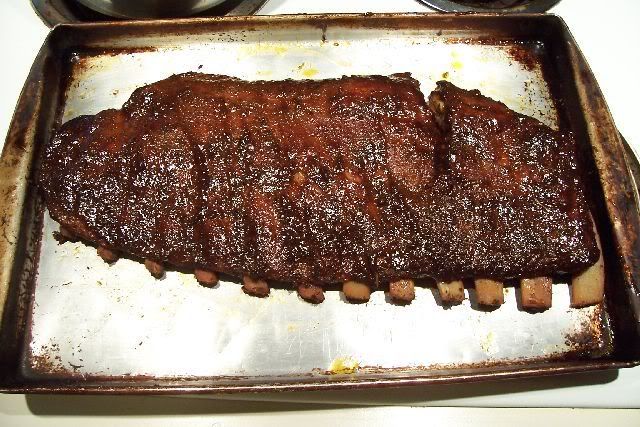 They look and best of all they taste great! I sliced one off and here's the smoke ring. I certainly hope this looks as tasty to you as it was for me!
I had fully intended to post this last night, but after all the ribs, I just didn't have the strength or will to compose this post until today. Folks, all I can say is thanks. Everything I know I've learn from you, Jeff, the news letter and the 5-day course. Can't tell you all thanks enough!