Here is a step-by-step method for mounting fold-down shelves on your GOSM.
I always found it to be a pain not having shelfs on my smoker for temp probe transmitters, wood chips, water jug, sauces, and stuff. I used to have a cheapo shelf that folded down on an old grill that gave me the idea to put a couple on my GOSM. After quite an endeavor searching for drop shelves and drop hinges, I finally found a shelf that with some slight modifications will work.
The shelves came from
http://www.aussiegrills.com/aussie_shop/,
part number 1206.9.001. They came to about $36 with shipping. This is for 2 shelves, but they do offer just one for a little less. I think they are also listed on Amazon if you know what to search for (Meco Side Tables).
Here is how I modified and mounted them:
1. First, you need to modify the brackets by removing the tab off the bottom. These brackets were made to fit in a slot on their grill which obviously we don't have. I bent them off back and forth with 2 pairs of pliers and then ground the edge smooth.
2. Next, you need to file out a little of the bracket slots to make the shelves sit horizontal on the vertical sides of the GOSM. The brackets were made for the Aussie grill which has sloped sides. If you don't do this, the shelves will slope upwards and look like wings. The picture shows a round file, but I wound up using my drill and the side of a drill bit (much easier).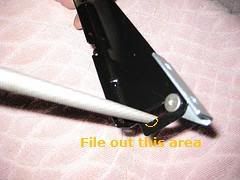 3. I didn't want the shelf to stick out in front or back, so I shortened them. Suggestion: trim on both ends so you can still use the slits and holes already in the slats.
4. The finish on the slats was a slight redwood stain (although the slats are hardwood). The stain quality didn't look like it would hold up to the weather, and would easily absorb stains, so I restained them (you have to do this anyway on the ends that you just cut) and gave them a couple of coats of polyurethane.
5. I chose to mount mine about midway up the side so the original handles are still functional and accessible. Caution: you probably want to be careful where you mount the shelf so it doesn't interfere with the handle.
6. Mount the other side if you have two shelves and enjoy!