Well I had my first try at some butt yesterday, even with the the wind and rain. Man it made for a long day. I really didn't realize how much love could go into a piece of pig butt.
I rubbed it and wrapped overnight.
Placed in the smoker at 6am (a little late as it turned out)
The temp hit a plateu at 152 for two hours
I foiled at 165, and pulled off at 196.
Let it rest wrapped in the cooler for an hour (couldn't wait)
In all it made for a long day, we finally ate a sandwich at 8:30pm.
This site and the ideas gleaned from it made it worth the effort in the end, and SoFlaQuer that finishing sauce really takes it over the top. I didn't have the exact Canjun Spice brand but I had Luzianne and it proved sufficient. The family loved it so I will run with it and next time it will be even better.
I'm sorry about the pictures I wish they were as good as the BBQ, but then I might be construed as a photographer and not a Q-genius in the making. Anywhay here they are.
After rubbed and wrapped just before placing in the smoker. I'm still working on rub quantity, although it seemed alot was sucked into the meat overnight.
This is after the rest prior to pulling. It was so moist and tender that I couldn't get it out of the foil without it breaking up.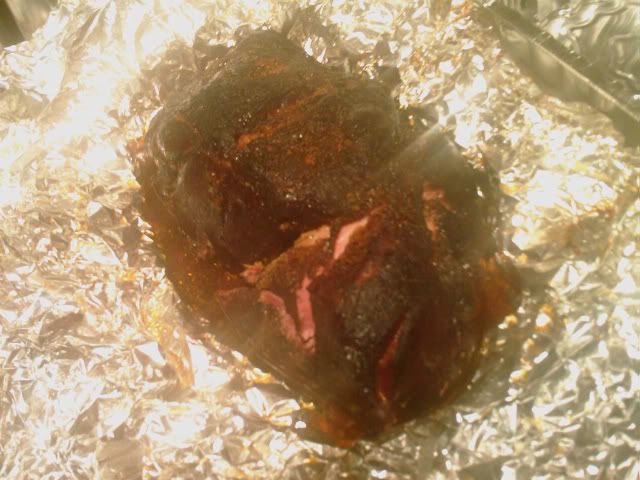 Pork is pulled and ready to go. I read about how to pull it and the size once pulled and I left it how I like it, and yes those are Dutch's Beans sorry no picture of them or the slaw.