I have been noodeling over some ways I could get better use out of my HD Brinkmann Vertical. I knew I wanted to convert to propane but was unsure exactly how I wanted to do it. I wanted to leave my option open of easily using charcoal at any time.
I was grilling some steaks on my Brinkmann grill and had the germ of an idea plant itself. My grill has (should say HAD) a side burner on it. I bet I have not used it 6 times in the 3 years of owning it.
I removed the side burner and cut a hole in the bottom of my smoker giving myself about 1/2" of clearance. I then placed the burner on the outside bottom and mounted it using pieces of pre-punched angle.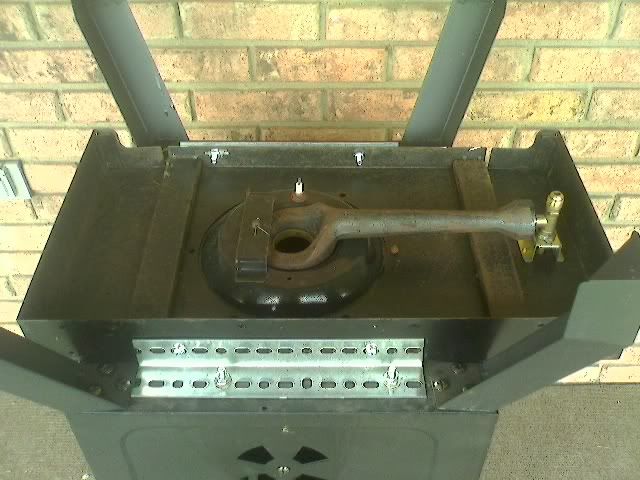 I do plan to add an elbow to the gas connector to make it eaiser to hose it up.
I was also able to use the tray from the side burner on the inside to put the cast iron skillet I plan to use for chunks.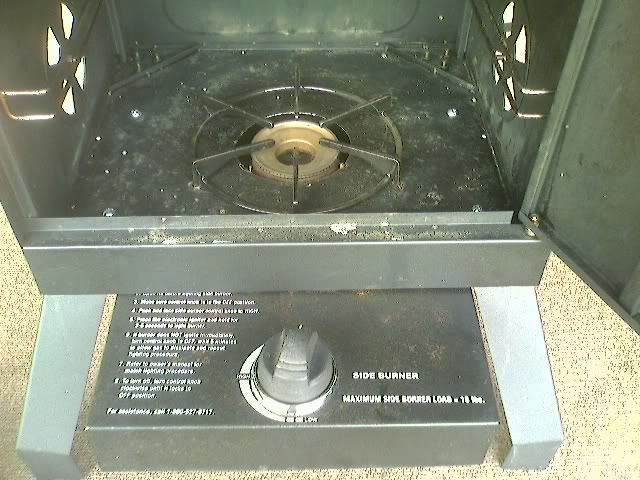 And here is the finished product!!! And yes.....lower door does clear the control knob with room to spare.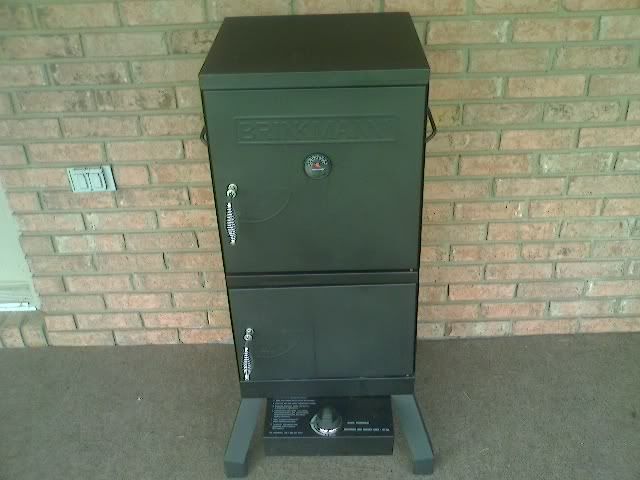 Total cost so far.....a whopping $8.57. And I can add another rack now that I will not need my burn basket.
Looks rather professional if I may say so myself. I ran it for about 30 minutes with nothing but the water pan in it and it hit 231 and held for 10 minutes with control set at lowest setting. I think with a load of meat it will do even better.
Which leads me to one question.
If I see that my heat exceeds 250, would you recommend adding the needle valve? Or would adding another vent at the top of the smoker allow for heat control. I have the piece I cut from the bottom and can easily cut a hole in the top in a smaller diameter and use the bottom piece to cover.
Now for the best part. I can take the sideburner off in about 3 minutes and be back to charcoal. I kept the cover that came off the burner and would use that to cover the hole. That will actually be an improvement as it will allow me to use it as a cleanout.
Now to get to shhhhhmokin'!!!!!!!!!!!!!!!!!!