First off i'd like to let yall know that i could have never have done this without everyones help here on SMF. You all deserve a big hand by posting the things you have.
I was sittin around the house tryin to think of something to smoke and one of the things we had a london broil. So i downloaded "mojo" and marinated it for a cpl of hours before grillin it on an open flame for 2 mins on each side. After that I smoked it for right about 2.5 hours usng mesq. for smoke. Than I removed from heat, wrapped tightly in tin foil and a hand towel to let sit for about 30 mins.This was probably the best london broil i have ever fixed.
As you can see i also fixed ABT's. the stuffing i used was roasted garlic, sharp chedder cheese, fried bacon bits and jus a bit of milk.
Patatoes were diced with onions and jalpinoes wrapped in foil and grilled.
EVERTHING was awsome.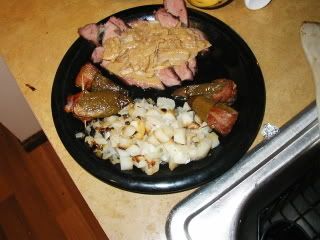 Hope yall enjoy the pics, but the food was better. lol