Hello all.
I know this is by far not an original idea. But... I have completed this mod, tested it, and I'm really proud of the results so I had to share.
Thanks to many of you but special thanks to Jerkyaddict. He and I have the same smoker and he really pointed me in the right direction.
As most of you know, this is the stock charcoal pan that the ECB comes with. This is a really bad option! Brinkman should be ashamed of themselves.
This was my first attempt at making a mod to the pan. It helped a little but not a lot. I realized I could have helped my cause some with more holes. Especially around the side but I could also see that I still wasn't going to get where I needed to go this way.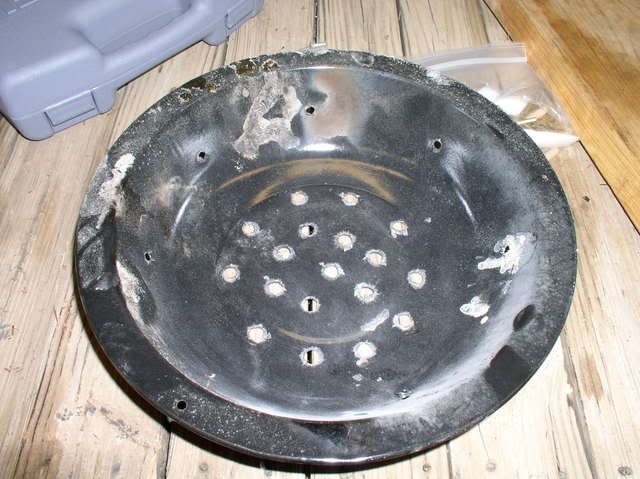 So... After chatting with some of you, especially Jerkyaddict, I came up with this. It's "medium" grade expanded metal. Those of you who know more about this type of material may know it as a certain gage or something. The guy at the metal shop knew that I didn't know much about metal so he probably was dumbing it down for me? They cut it to shape (almost) for me at no charge. The guy thought he was doing me a favor by leaving extra material. In fact, they made it a little more difficult but I managed with a dremil tool. Any way, using the stock frame that original charcoal pan sat in, I bent the metal into a circle to fit. Then using heavy gage bailing wire attached the bottom piece in four places.
I lit up a basket of coal to see what kind of temps I could expect. At 396* I closed down dampers and looked for a steady temp at 325*. It held that for about 2 hours without me doing a thing to it. (Except adding some water) It started to drop at that point and I wanted to test what it was like to get and hold 225*. It got to about 240* and held that until I was content that I can make the heat I need for pretty much what ever I want to cook now.
I'm doing two chickens and some ABT's tomorrow. I'll post some Q-View in the poultry section. I CAN'T FREAKING WAIT! Life is going to be so much easier now.