Ok, so onward to the Buckboard! I picked up a 65lb case of shoulder from a good friend who owns a restaurant. I put about 25lbs in the freezer for later projects and got to work with the rest. I had some requests! I won't bore you all with prelim pics, but I put up batches of: Molasses Buckboard, Apple Cinnamon (basted with bourbon & apple juice during the smoke..dear God it's good!) Maple & Brown Sugar, and Mesquite Butter Seasoning (A request from the Chef).
The Molasses is pretty much standard buckboard, except I roll it in my spicy sweet rub when it goes in the bag, and again right before the smoke.
The Maple & Brown sugar, is just that. I blended the brown sugar with the tenderquick and then poured in some pure maple syrup.
Apple Cinnamon, I mixed Cinnamon powder with the salt cure, and coated well. I boiled some apple juice with cinnamon sticks, then cooled down and poured it in the ziplock with the coated meat.
Mesquite butter is a seasoning used in my friends restaurant, and I mixed it with the salt cure, and into the ziplock it went.
All these went happily along in the fridge for 2 weeks, getting flipped and weighted every few days. I got perfect cures on all of them! Into the smoker!
All but the Mesquite butter went in my big smoker with Hickory and smoked at 200 until 140 internal. The Mesquite went into a Big Chief with Mesquite chips until 140.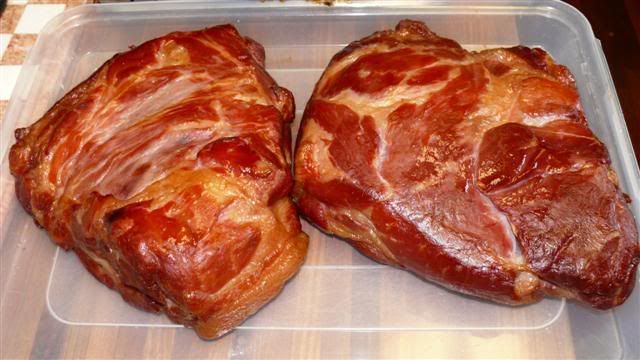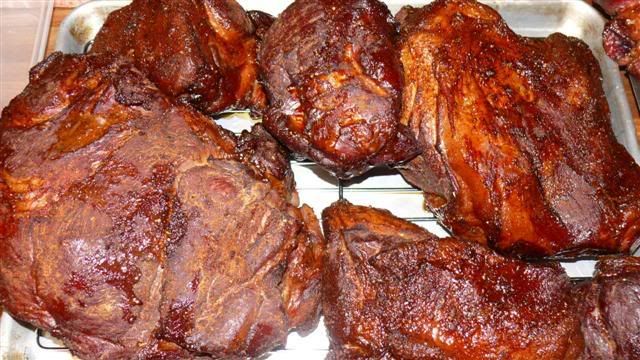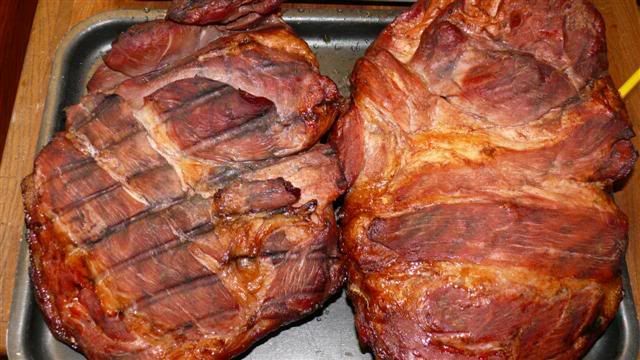 Thanks to my good friends at the golf coure, they let me borrow their big slicer to make my life easier (they get goodies too!)
Then, a good workout for the Foodsaver, and we're finally done!!!
What a kick! Glad it's over with....for now! Hope you enjoy the pictorial!