I guess I was one of three people on the planet without a digital camera. Well I fixed that last week and spent yesterday smoking and taking pictures....so here we go.
My fuel for the day.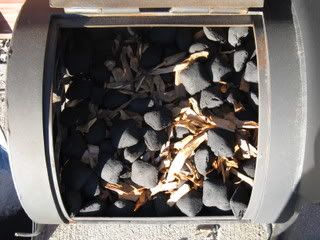 Charcoal and wood chips loaded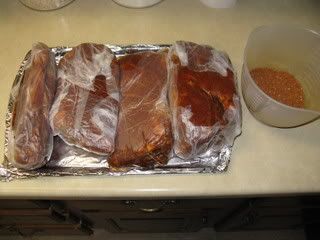 Pork after rub and overnight in the frig
On the grill with a second coat of rub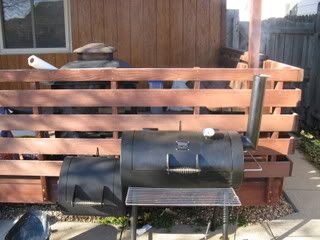 Smoking now....about 10am
Going for 6 hours now temps around 150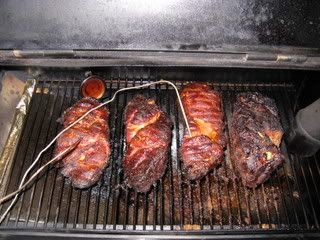 Temps at 199....off to the foil to rest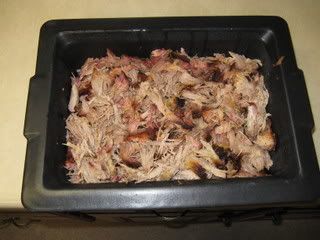 The finished product.
I used cherry chips for the first time today and love it. A little more bark than I wanted on the roast closet to the firebox. Rotated them once, probably should have done more.
OK, now for my questions.
1. I really like the bark mixed in with the meat, so I,m after a heavy bark when I cook these. One of these was getting a little dry, so if I mop during the cook will I lose or reduce the formation of the bark?
2. I'm used to using wood chunks, first time with chips. I addition to mixing the chips in with the charcoal I put some in the foil packets I heard mentioned, one hole with a toothpick. It produced a nice smoke for about 20-30 minutes. I didn't soak the chips. Is there a better way to make the smoke from the chips last longer?
Have to say I was impressed with the surefine brand charcoal used. Seemed to make alot less ash than the Kingsford I've used. And the ash was really fine, almost like that you get from lump not the sand like stuff that kingsford produces.
Now I knew the roasts wouldn't be done for supper, so I fired up the gasser and did a small rack of ribs, here they are.
So I hope this post works.
THANKS in advance to gluedtoit for the instructions on how to do the photos. This is a great place
Dave