Ok, I smoked my first batch of ABT's and my first two fatties this evening and now I see why ABT's are called BBQ-crack!!! Man, these things are some of the best eatin' I've had in a WHILE! I kept 'em simple and didn't season the cream cheese for this batch but I can't wait to experiment with different seasonings in future batches... and trust me there will be LOTS more batches, good Lord willin'. The fatties are good too, but man, those ABT's are awesome!
Anyway, on with the Q-view!
The ABT's and fatties prepped and ready. I just dusted the fatties with Grill Mates Pork Rub this go-round. Will also experiment with that in the future...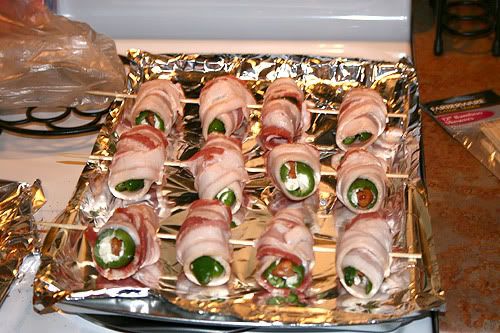 And as for my huge issue with the Char Griller... long story short, the factory thermostat is around 100* off at +/- 230*. Explains why the butts I've smoked have cooked too fast and didn't pull at all. I've been basically indirectly grilling/baking them at probably close to 400* by keeping the factory thermo at 225-230*. Pics of the factory thermo and then two others I used to get real cooking temps at the grate...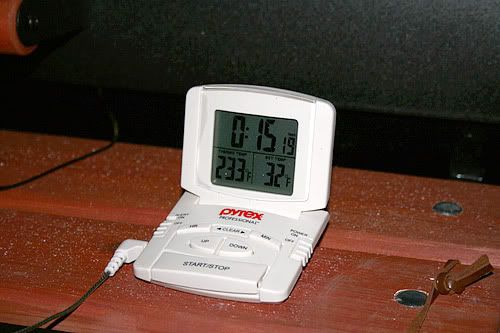 Also got a true handle on my fire and smoke this time since I didn't have to fight it constantly to keep the in lid thermo on 230. Never had more than a thin blue wispy smoke the whole time. Used charcoal and added hickory chunks occasionally for smoke... Perfect!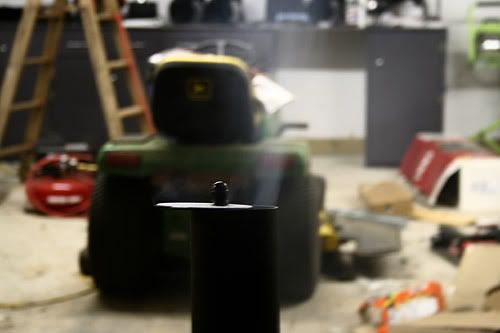 The goodies just before I took them off the smoker... Mmmmmmm!!!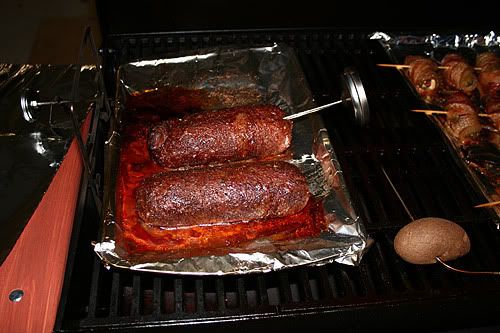 And in the house in a little better light, just before I dug in! I still can't get over how good the ABT's are!