Well... like the title say's, this is my very first attempt to "SMOKE A FATTY"!   


And to make things interesting I have come up with an idea for my own version that as far as I could find has never been mentioned on-line! That's no guarantee this has never before been tried, but I would like to think it was all my idea anyway...

Introducing The Bacon Bleu Cheese Buffalo Burger Fatty!! (available for a limited time only at participating locations)   


I can already hear a bunch of you sayin' "ewww... I don't like Bleu Cheese on my burger"... well fret not my friends, I have a simple solution for your own slightly modified version as well 


Ingredient's Used:
*1-1.5lbs ground beef 80/20
*1lb uncooked thin cut bacon (for outer weave)
*1/4lb bacon, cooked crispy and crumbled (I used thick cut applewood smoked)
*Dry rub (I used some "Roasted Garlic & Beer" rub from Cabelas)
*Buffalo wing sauce (I used KC Masterpiece Hot Buffalo marinade)
*Fresh crumbled Blue Cheese (Optional versions: If you don't like bleu cheese replace with sharp cheddar or maybe some spicy pepperjack!)
*Whatever toppings you think would go well with bacon/buffalo bleu cheese burger (I used some "Hot & Spicy" dill pickle spears from Claussen)... grilled onions would probably go nicely too, get creative!

On to a few pic's of my progress for those who may be interested ~

My very first bacon weave... turned out decent



Bacon weave dusted with rub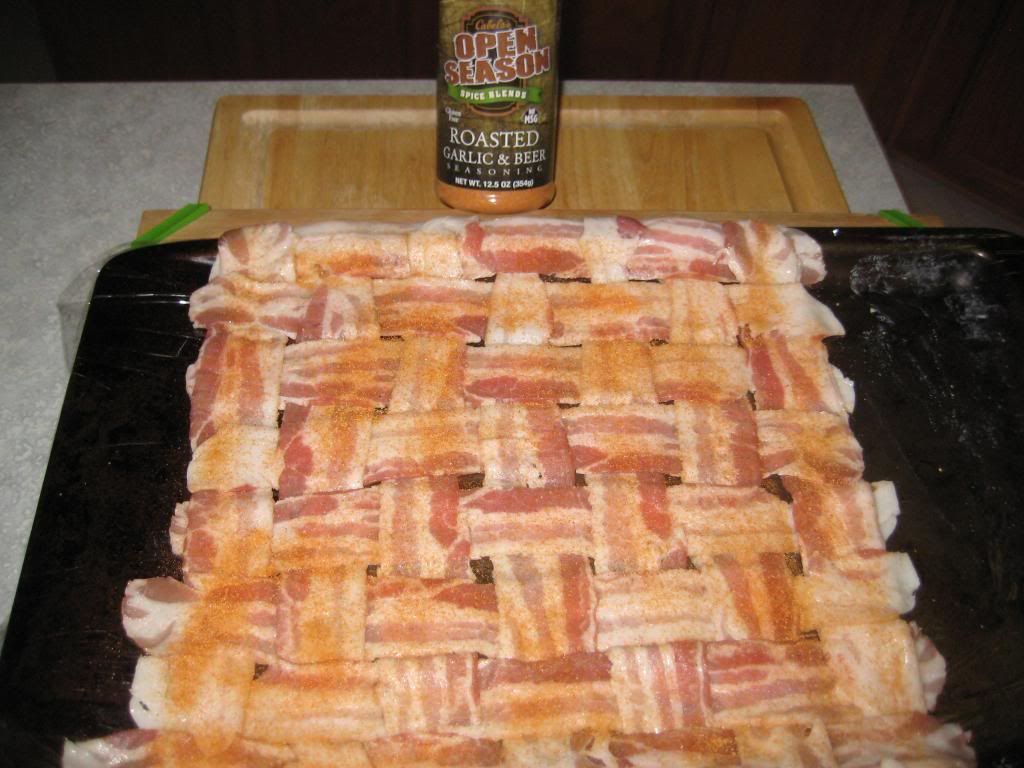 Ground beef rolled out evenly inside gallon size Ziploc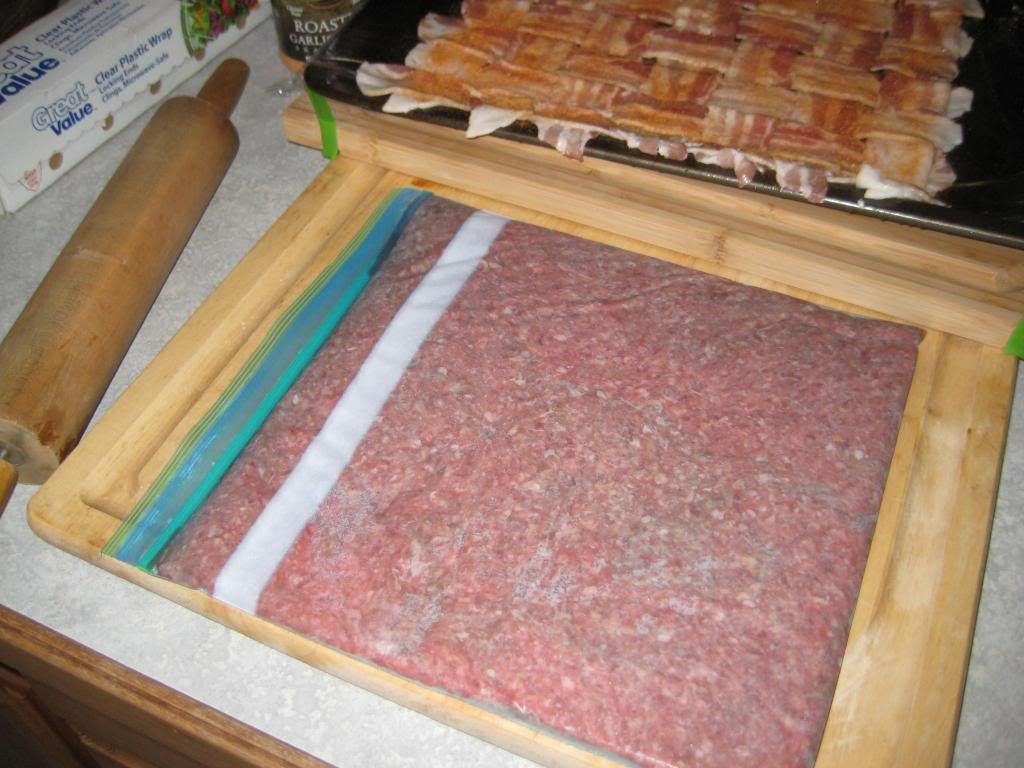 Ziploc cut away, ground beef transferred on top of bacon weave, dusted with more rub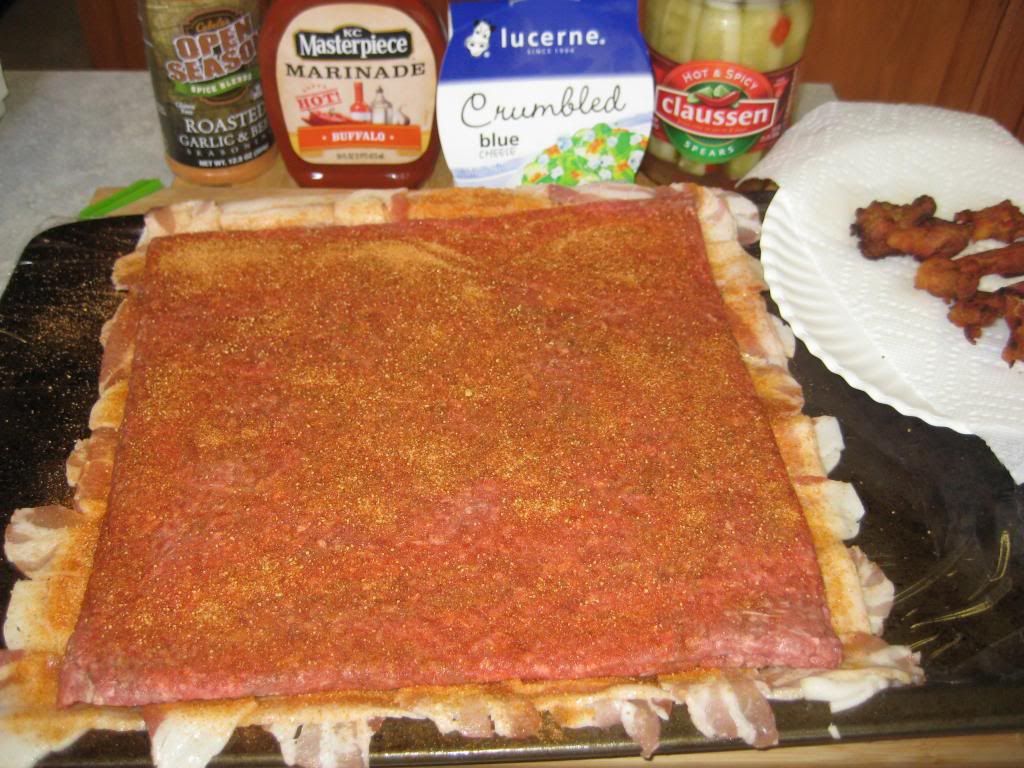 Light even coat of Buffalo sauce applied over ground beef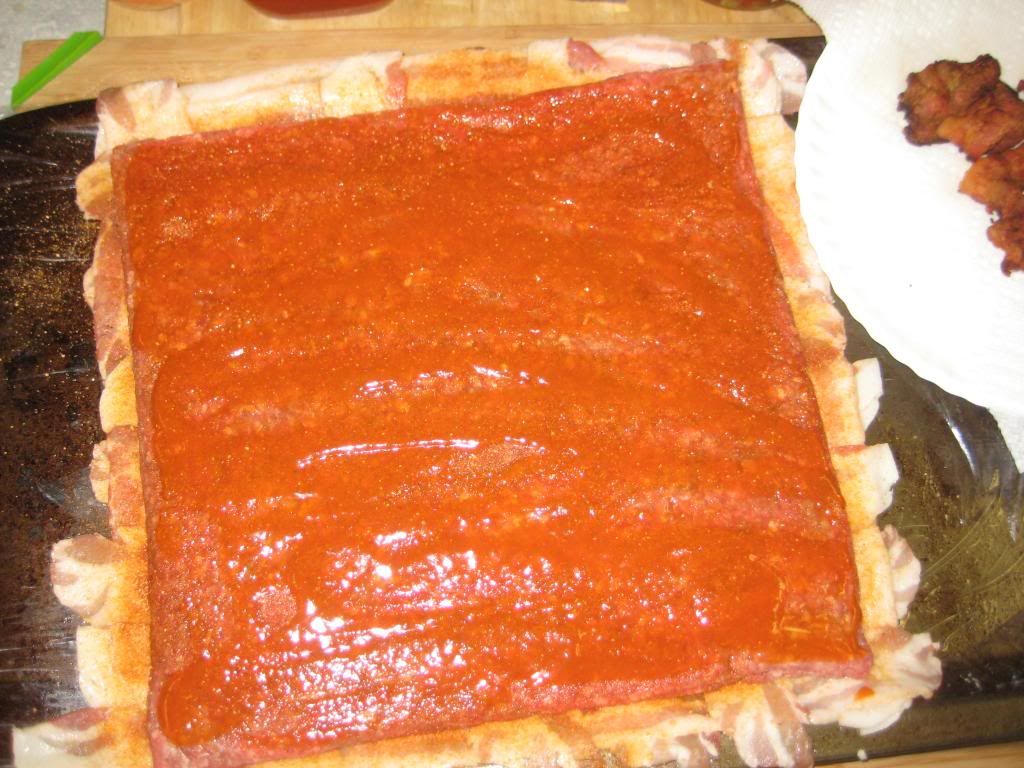 Add crumbled bleu cheese (or other optional cheese), crispy crumbled bacon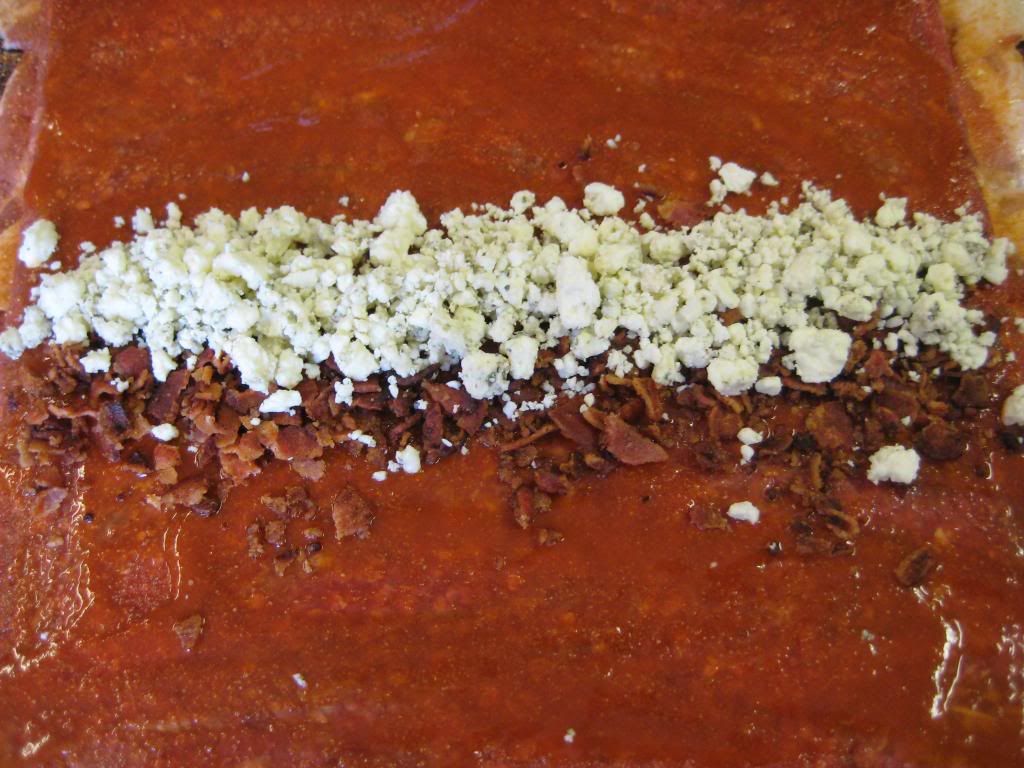 Add any other ingredients you like, I went with pickle spears (not too sure how thats going to work out yet lol...experimental?)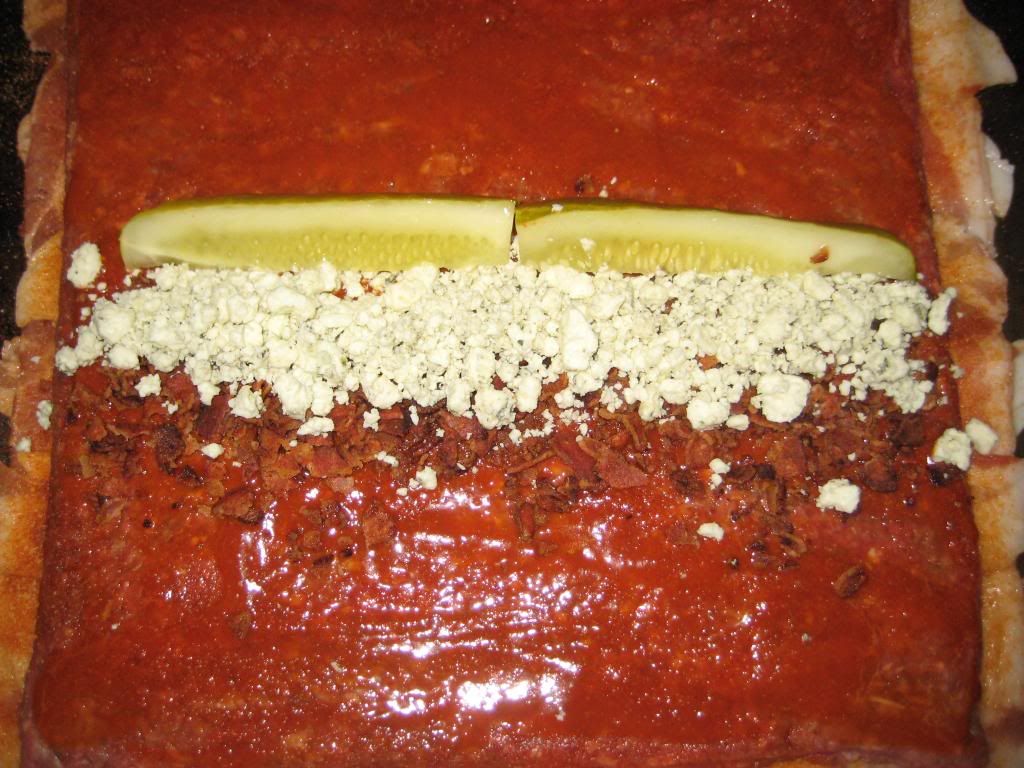 Rolled up the ground beef and it's inner contents as tightly as possible being careful not to rip it open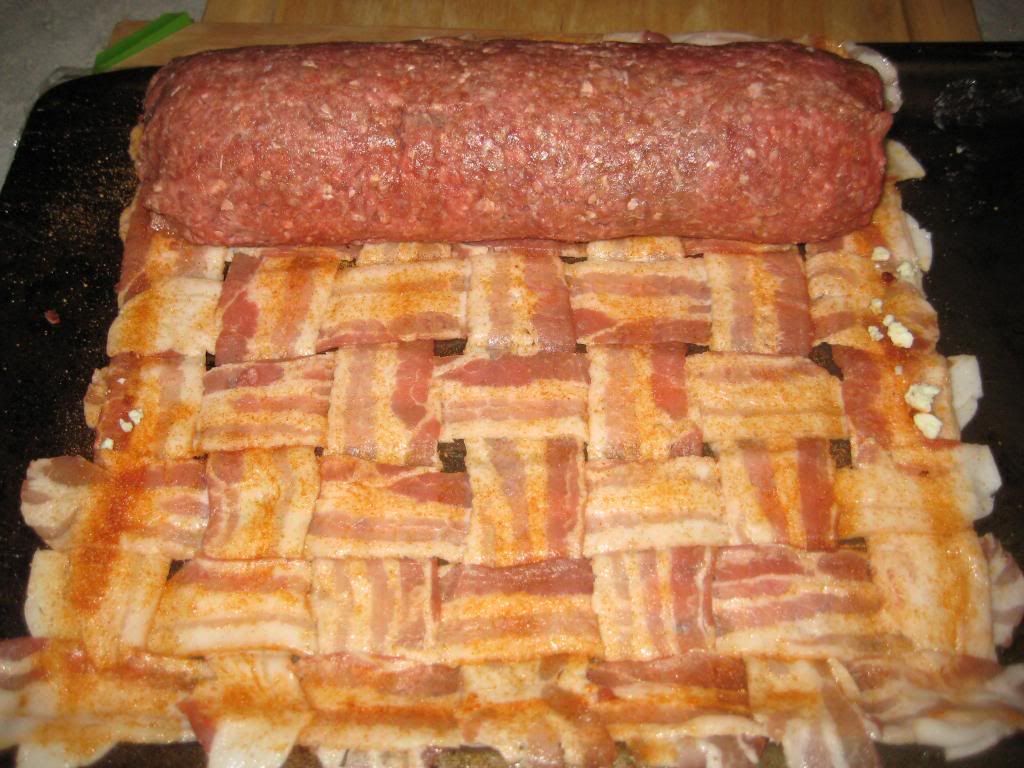 Followed by rolling the bacon weave, and another final dusting of rub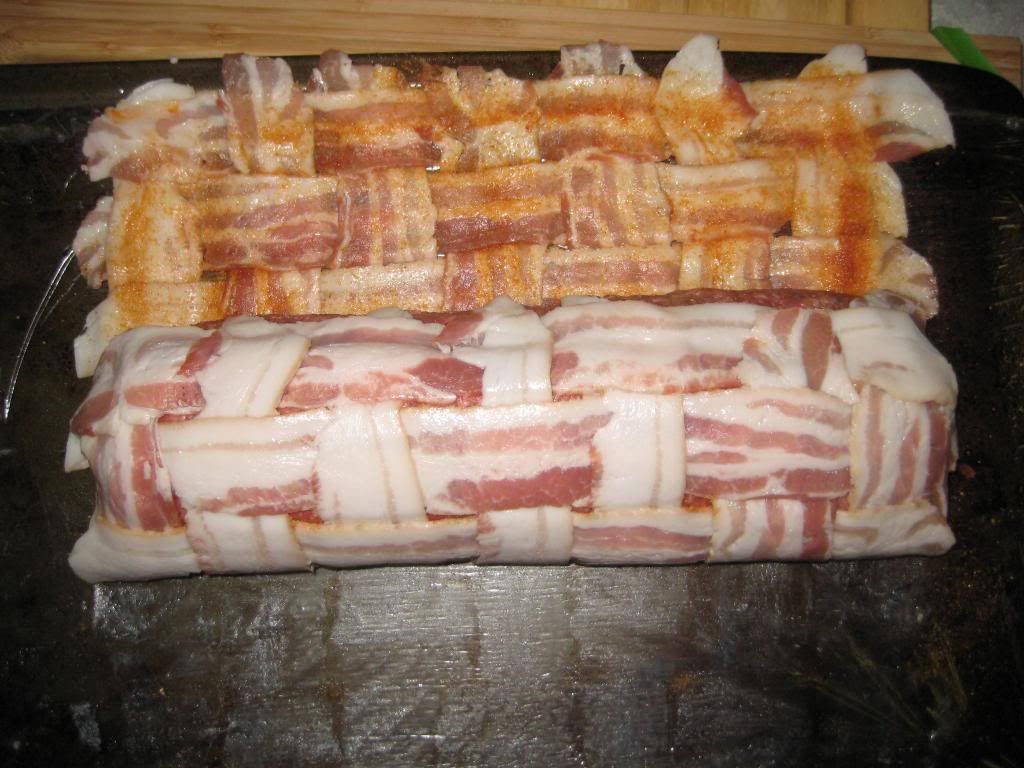 All rolled up in plastic wrap to be chilled in refrigerator overnight... tossed a standard paper plate in photo for size reference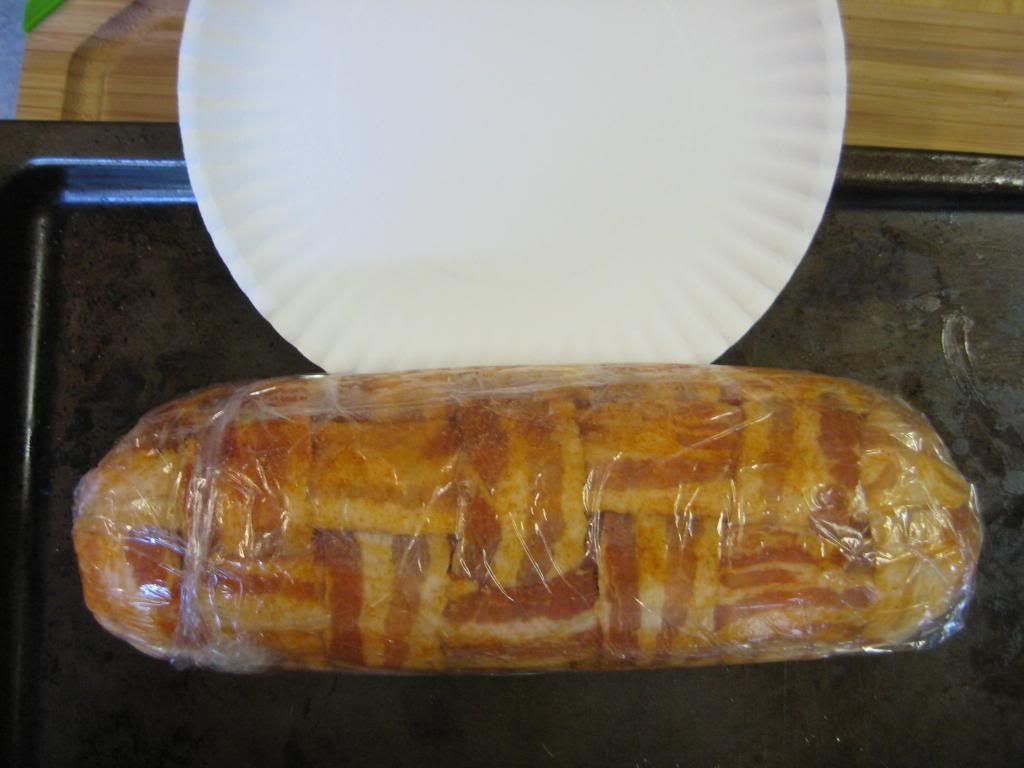 That's it for now! I plan to slow smoke it on my 22.5" WSM @ 225* for as long as it take's to come to proper IT of 165* or so...

You and I both are going to have to wait until tomorrow to see/taste the results of this FATTY EXPERIMENTATION!