A successful first burn on the new smoker with chicken quarters gave me enough confidence to move on to some ribs! 


After reading through a bunch of recipes and watching 23 pre-recorded episodes of BBQ Pitmasters I figured I had a good handle on things   


I incorporated ideas from several sources that sounded like something I'd like to try including using the "2-2-1 Method"... I may not quite be ready to win a competition, but they turned out pretty darn good IMO!   


Started out by prepping the 2 racks of St. Louis cut ribs by removing the membrane and rubbing them down.

Rack #1 was rinsed, patted dry, and rubbed on both sides with a generous coat of "Babyback Rib Rub" from Cabelas, followed up by a light dusting of Hungarian Hot Paprika.

Rack #2 was rinsed, patted dry, slathered with a coat of prepared yellow mustard, and then rubbed on both sides with a generous coat of "BJ's BBQ Rub" from Nevada BBQ Company, followed up by a light dusting of Hungarian HOT Paprika.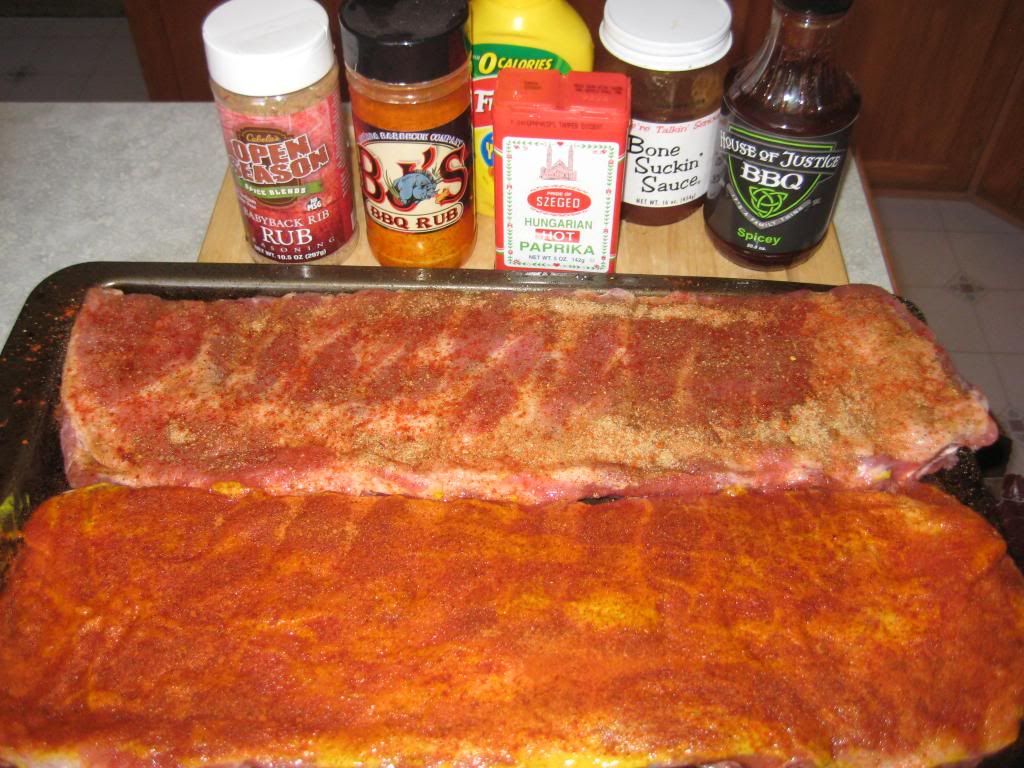 Both racks were covered in plastic wrap and placed in the fridge for about an hour while I started to prepare the smoker.

I used a combination of hard wood briquettes from Trader Joe's along with some hard wood lump charcoal (oak) and a couple fist-size chunks of applewood for additional smoke flavor, and set it up using the Minion method.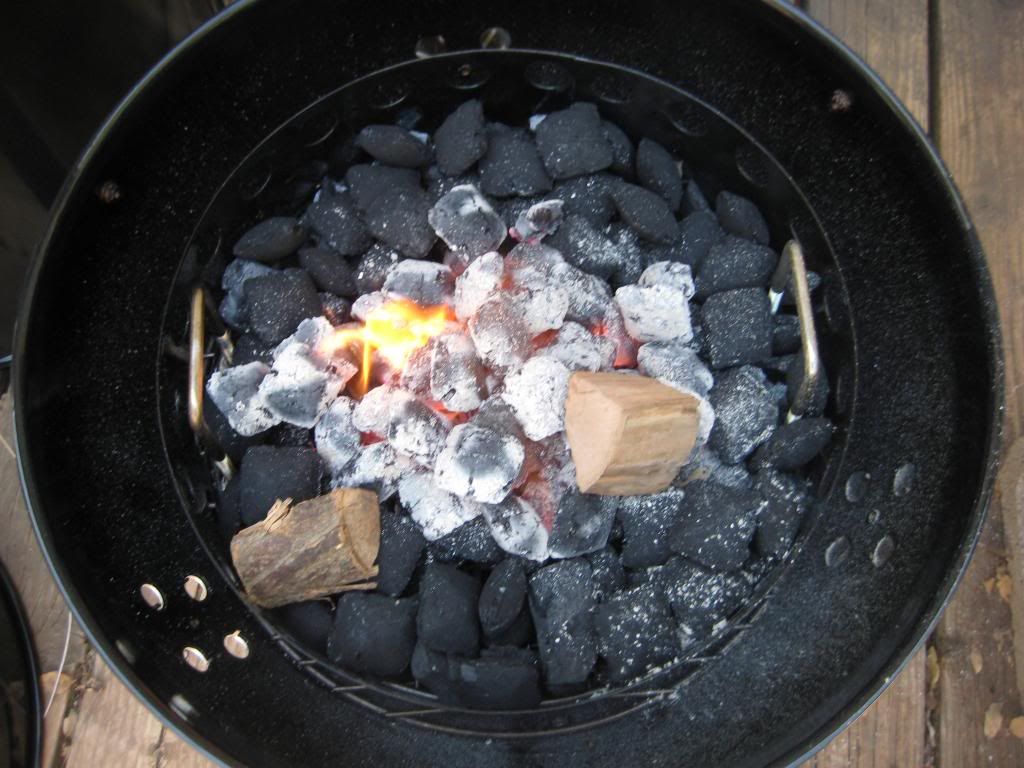 Once the smoker temp's stabilized and were holding @ 225 I tossed the 2 racks on and gave them 2 hour's of smoke.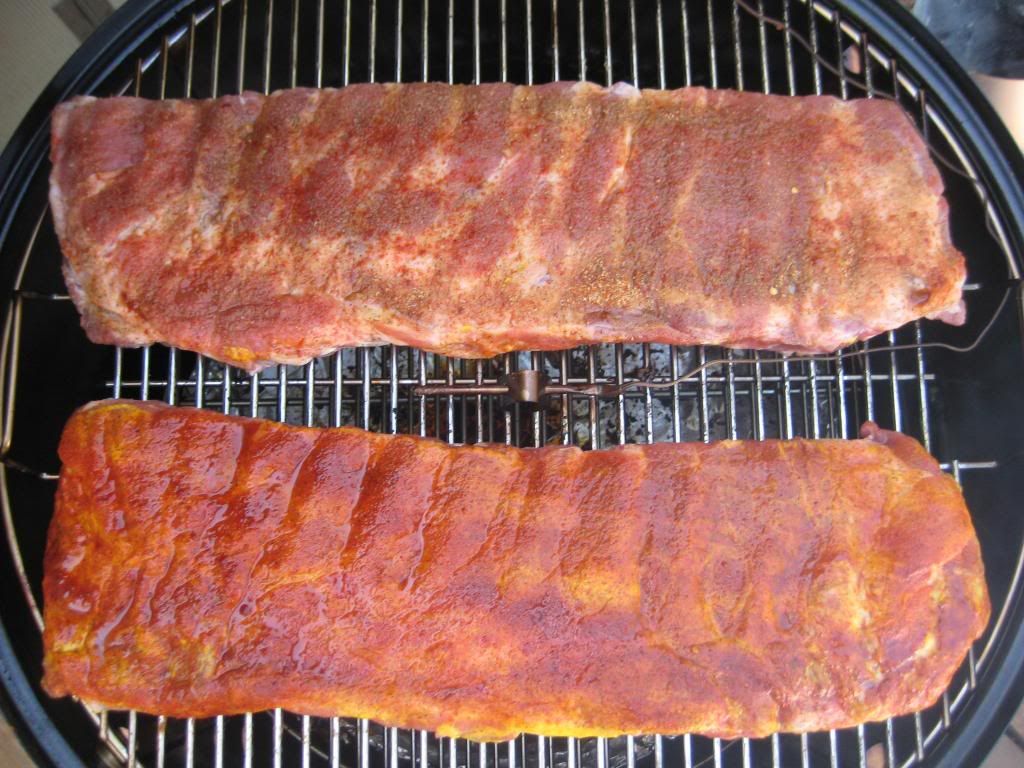 At the 2 hour mark, I removed the racks from the smoker and gave them the "Texas Crutch" treatment (wrap in foil).
 Rack #1 got a fresh dusting of it's dry rub, a couple squirts of squeeze butter and about 1/4 cup of apple juice (3 apple blend).
 Rack #2 got the full "pitmasters" treatment using a coat of its dry rub, squeeze butter, Brown Sugar, drizzle of Agave Nectar, and a healthy drizzle of Tiger Sauce along with a bit of the apple juice blend as well!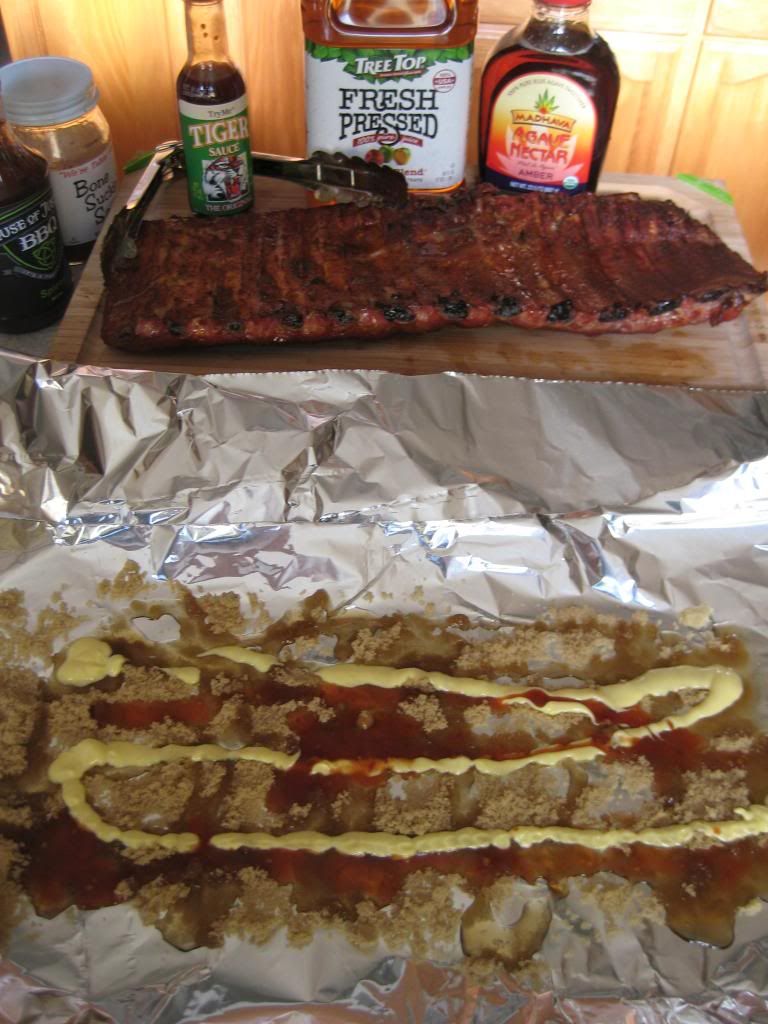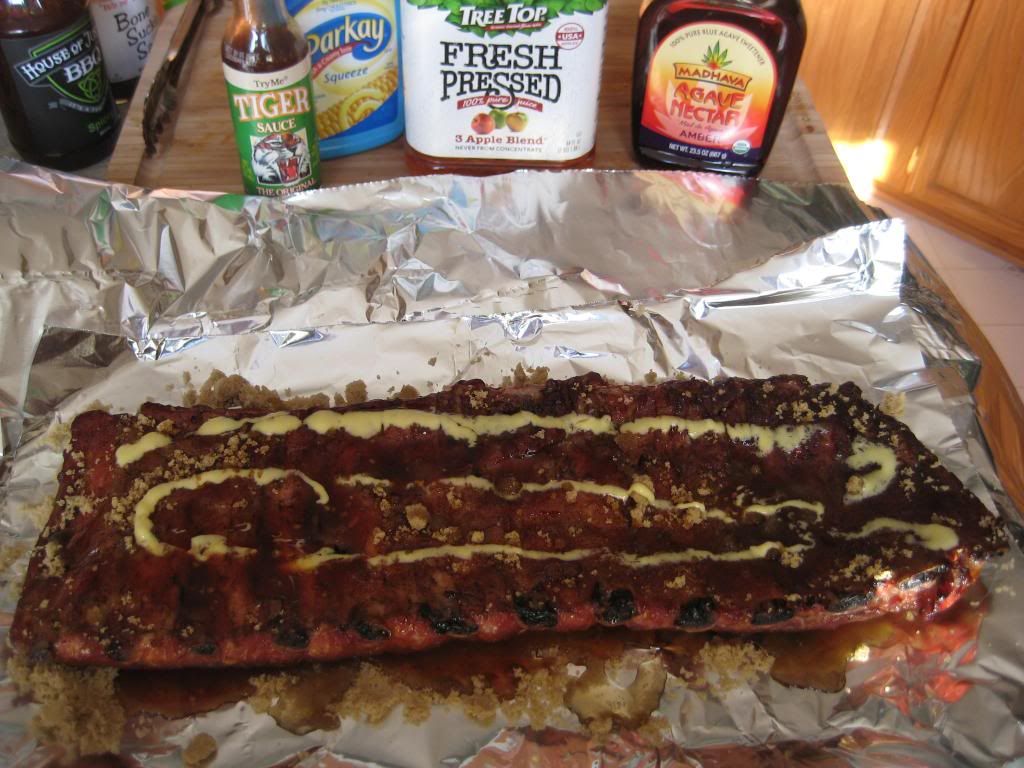 All wrapped up tight and ready for another 2 hours on the smoker @ 225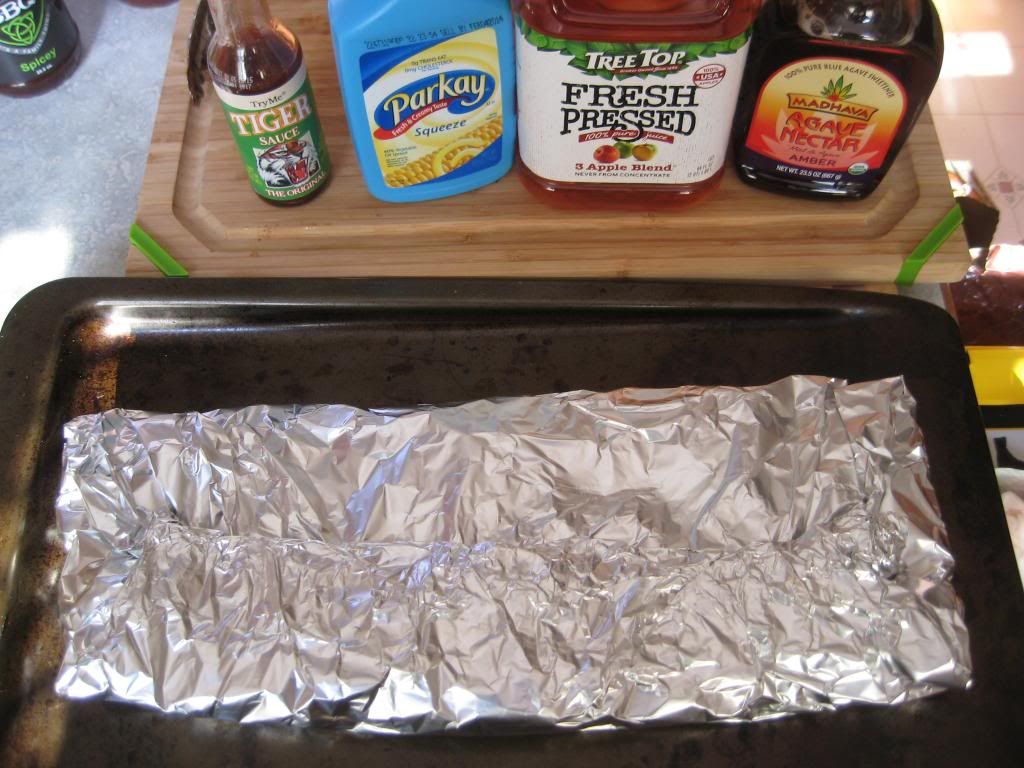 Once I hit the 4 hour mark, I removed both racks from the foil and returned them directly to the smoker rack. Being that this was my first time crutching (and first time cooking ribs entirely on a smoker for that matter), I now realize that 2 hours is probably a bit too long in the foil for my preference and this type of rib cut as rack #1 was practically falling apart as I tried to pull it from the foil... for some reason rack #2 didn't seem quite as overcooked (not falling of the bone like #1). On the next batch I will likely cut the foil time to 1.5 hr and see how that goes. Rack #1 got brushed with a spicy sauce my buddy picked up from a local guy at a fleamarket called "House Of Justice BBQ - Spicey" 
Hey, just because you can bottle a sauce doesn't mean you can spell!
Rack #2 got a coat of my own modified version of "Bone Suckin' Sauce" to which I added 2 Tbsp Honey, 2 Tbsp Brown Sugar, and about a Tsp of 100% PAIN Hot Sauce!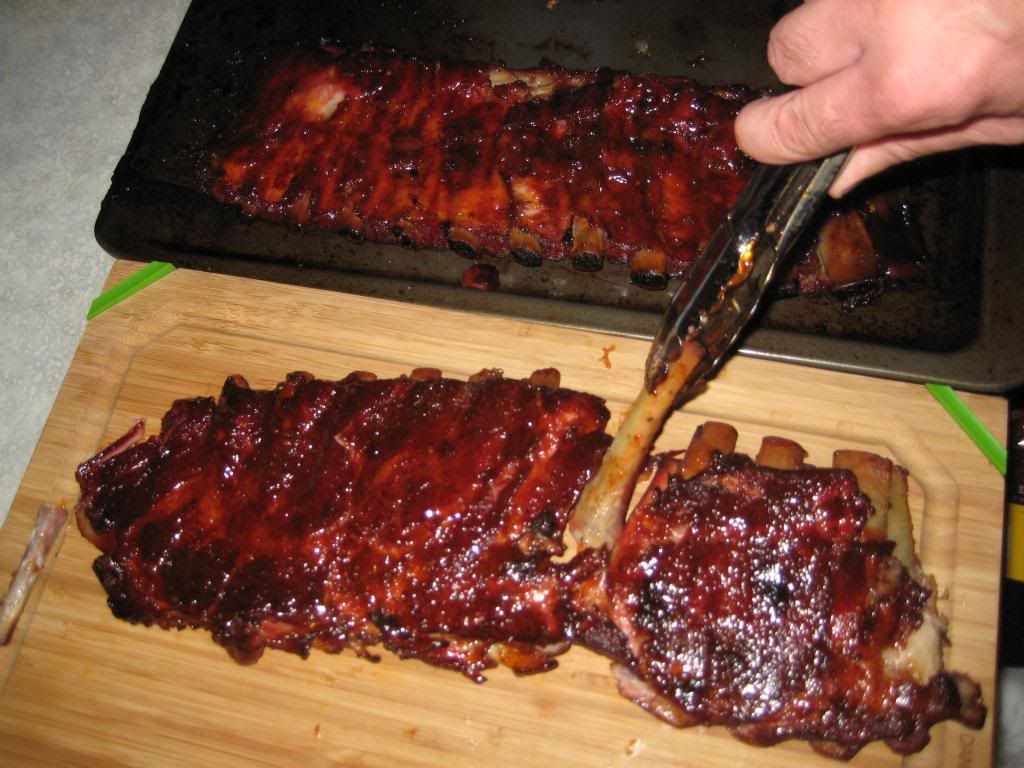 My buddy Travis had no complaints, and he actually preferred the fall off the bone texture of rack #1, although we both agree'd rack #2 had the best overall flavor (and I preferred the not so fall off the bone texture of #2)...




 Here's one last shot which is showing a rib from rack #2 and how nicely it bit through without falling apart... MMMMMMmmmm!!!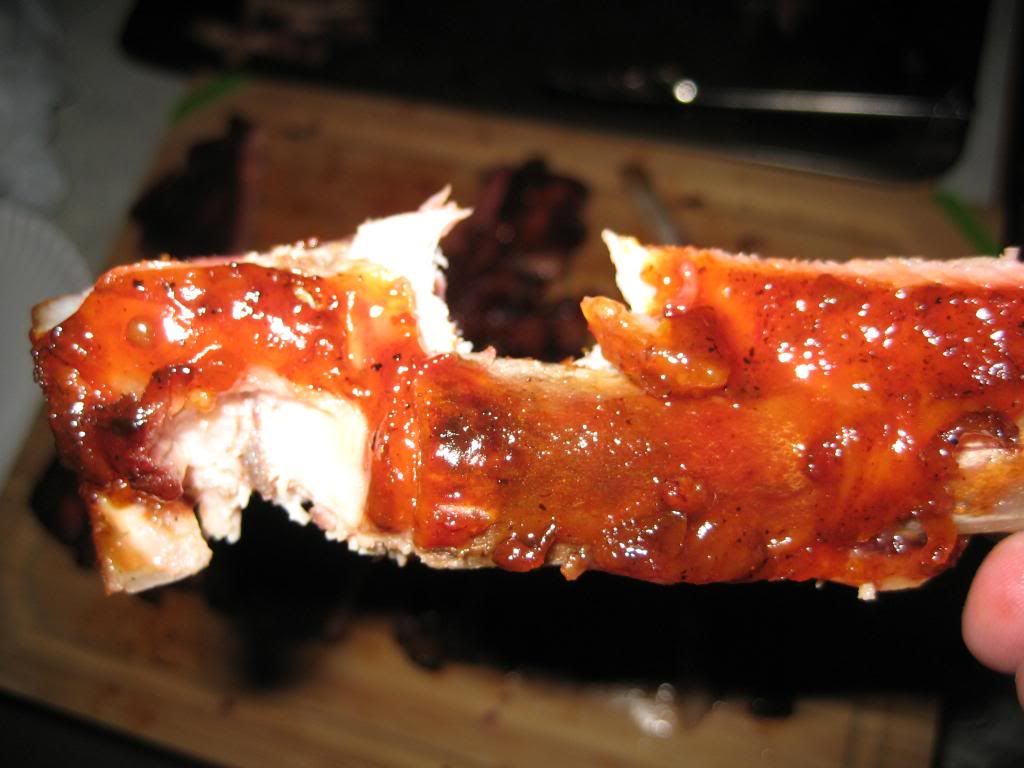 Long story short, I still have plenty of room for practice, but I sure am enjoying cooking all this grubbin' food on my new smoker!