97
45
Joined Jan 18, 2021
Took last Thursday and decided to make up some venison/pork fresh sausages and some Andouille. This was my first attempt at Andouille and I enjoyed the process of making it.
I made all my sausages with a 50/50 mix of venison and pork butt. The Andouille I added a little more back fat for the picture profile. Trying to use up my venison, next season fast approaching!
First the Andouille:
Ground the pork coarse, 1 grind in a 1/2" plate. Venison 2 grinds 1/2" and 1/8" plate. Wasn't sure if should just do 1 grind, but looking at pics looked like a second grind would result in a nice texture.
Next added the spices. I used the pre mix from PS Seasonings, Hot Andouille, since my family likes spicy foods, and mixed.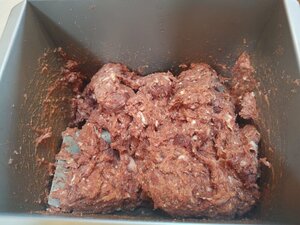 Stuffed in natural hog casings and amazingly, no blowouts!!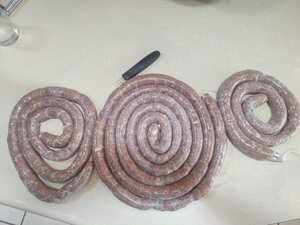 Off to the smoker it went. Preheated and held for 1/2 hour, at 110 degrees.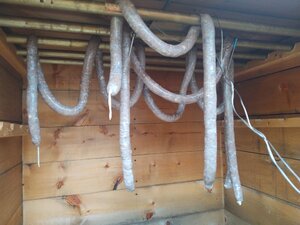 Sorry not hung very 'pretty' going to work on this in the next batch.
Raised the temps to 130 and added smoke for 1.5 hours. Then continued with smoke and raised temps to 185 degrees until internal temps hit 155 degrees. Ice water bath and back to hang for 2 hours to bloom.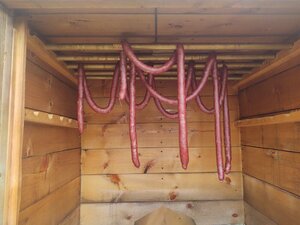 Here is a pic of the Andouille cut before packaging. I liked the flavor and texture. Although only my first try and may be better out there to try next time!
Next few pics are just fresh sausage I made using PS Seasonings.
Habanero Mango Bratwurst
Philly Cheese Bratwurst
Polish Sauage
and failed to take pics of the Hot Italian and Breakfast sausage I made. Fry tests we were happy with all. 55 lbs of sausage for the freezer to be eaten.
Sorry so long and pic heavy.